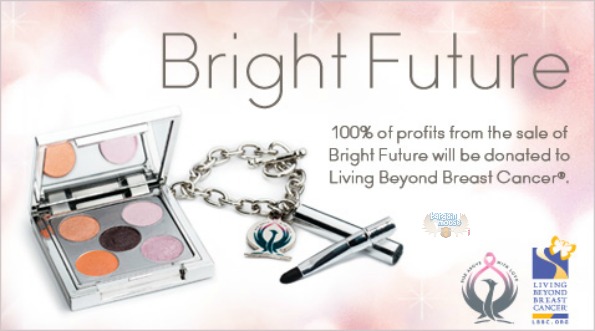 Every once in a while I like to highlight charity products that really put charity first. I see a lot of 'pink' products that donate a couple percent or a couple dollars to breast cancer awareness, whereas the company takes the rest for profits. I think those products are okay, but really companies are just using breast cancer fundraising as a marketing tool to sell products. Jane Iredale Canada is very different: they are selling a five eyeshadow compact called Bright Future, and 100% of profits from the sale of it will be donated to Living Beyond Breast Cancer. Now this is a product I can get behind.
To me, this is one of the best breast cancer fundraising initiatives I have seen so far this month. The company makes absolutely no money off the product; instead, they give all profits to charity. I can't stand companies that 'profit' from charity products, so I am enamored with this offer from Jane Iredale.
I am sure you want to know about the product, too. You get five eyeshadow shades:
Peach Sherbet
Pink Glaze
Red Carpet
Pink Cloud
Dusk
They come in a really pretty quilted-paper decorative box adorned with a Swarovski crystal. The product costs $35. You also get free shipping on the product because it costs over $25.
While this might not be a typical deal, I still think it is a very good deal. You get a beautiful and all-natural set of eye shadows in a lovely compact, and all profits from your purchase go to support women affected by breast cancer and give them a brighter future. Feel good, look good, and do good too.
(Expiry: Unknown)