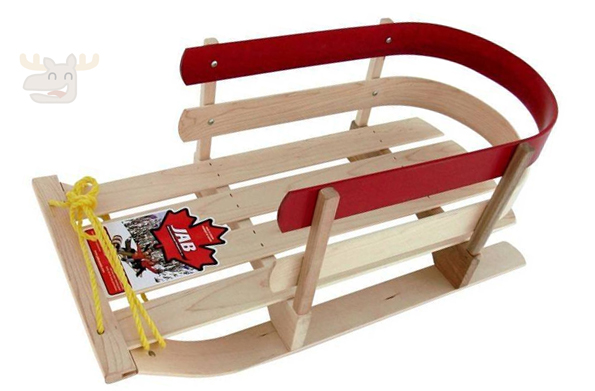 Winter is coming. << Insert witty Game of Thrones quote here >>>
I saw this super-cute baby sled in the clearance section at Walmart Canada this morning, at the online store. This lovely little wooden sled currently is discounted by an extra $10, down from $44.97 to only $34 there.
The product is made by Jab, a Canadian toboggan specialist, based out of Quebec. I had a look on the product page and on the manufacturers website, but I couldn't find the exact weight restrictions or age recommendations for the sled. However, I did find some info on Canadian Tire which says it's for kids aged 1 to 4, holding up to 40 lbs.
If you buy this wooden Jab baby sled on its own, you'd have to pay a little extra for home shipping from Walmart.ca. However, you can always order online and make your order up to $50 – that way, you get free shipping to your home. There are always tons of great little deals on kids' clothing and accessories online, so it's super-easy to make the cart up to the $50 minimum.
Now, I wasn't sure if this was an incredibly low price from Walmart, so I had a price comparison elsewhere, to see what other prices there were online. As mentioned earlier, the same sled is $45 on Canadian Tire, and $102 on Amazon!
You might be happy with the baby sled alone, but you can also get baby cushions and windshields for this type of thing. For example, the cushion alone is $25 at Walmart, or you can get this cushion and windshield combo for $40 at Sears. That's more than the sled itself though, so that might not make a lot of sense!! For me personally, I'd just sit the kid on a comfy blankie and wrap them up well in their winter gear. :)
(Expires: unknown)