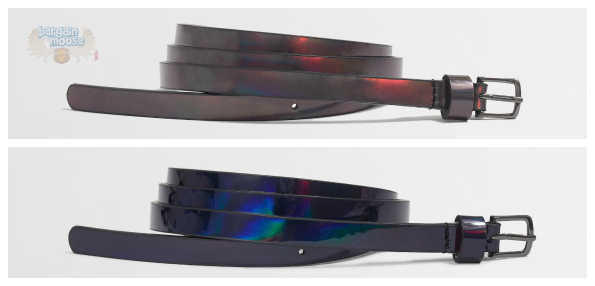 J.Crew Factory is having a flash coupon code - FUNTIMES - that gives you an extra 40% off your order with free shipping. The free shipping is where a good part of the value is as shipping to Canada costs a flat rate of $9.95 usually. In the clearance section, I found this Factory Translucent Belt on sale from $33.50 down to $8.99. After coupon code, pay just $5.39 USD for this brand name belt.
The belt comes in thunder grey or black. Both colours are not 'what they seem' because the translucent material changes the colour depending on your angle. I originally thought that the black was a deep nautical blue and that the grey was a dewy plum. These belts will look fantastic with many different clothing options because of those shifting colours.
Thunder grey is available in size medium and black is available in sizes small and medium. Only size large is completely sold out. These belts are made of polyurethane and are half an inch wide.
Think stocking suffers for Christmas, a small gift to yourself, or a gift to a friend for one of those 'just because' moments. I admire our Moosers who are already buying small things to stuff in stockings. By time Christmas comes around, you will be all set!
Now, there are plenty other items in the factory outlet to combine with the extra 40% off and free shipping coupon code. For Moosers on a budget, check out this Factory nautical flag collector tee on sale from $42.50 down to $17.99. After promo code, the shirt comes down to $10.79. For a J. Crew tee shirt, that is not a bad price.
My pick of the sale - beyond the belt - is the Factory paneled flare dress available in blue or orange. First, this is a great cut for the summer. The upper is fitted and sleeveless, while the skirt has a very nice flare to it. Originally $116, the dress is on sale for $68.99. After promo code, pay $41.39.
As the belt costs under $20 USD, there are no fears of duty or additional fees at the door. The belts will just ship to your door for the cost you see. Do hurry and use the promo code, as the flash deal is only for today! Wait until tomorrow, and it will already be over.
(Expiry: 13th July 2015)