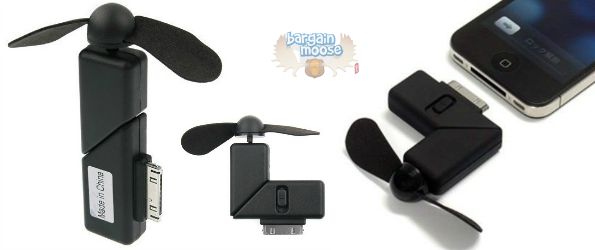 Phew, this week is a hot one here in Montreal and for most of Canada. Be prepared like a scout with this iPhone Dock Fan that attaches right to your iPhone 4. We spotted this nice deal over on Amazon Canada for $3.80 and it includes completely free shipping.
Picture this, you are out in the middle of your kid's soccer field and it is blazing hot. Other parents are dousing themselves with water as they carry their chairs, blankets, snack cooler and bags for soccer gear. Out of your pocket you pull this mini fan, click it into your iPhone and are ready to feel the breeze.
This is an amazing deal for this handy accessory. The Sodial fan is designed for iPhone 4, but will also fit iPhone 3, iPod Touch. It also mentioned fitting the iPad in the description but does not mention what generation. This neat fan does use the 30 pin adaptor to power, not the lightning cord. Chances are good if your device also uses the 30 pin adaptor, this fan will work with your device. This product is not endorsed by Apple but is a plug and play style device.
Not Available In Canada Anywhere Else
This particular item is from a second party seller and is not available anywhere else other than Amazon Canada for Canadians. I found a similar model on the US Amazon, but the fan is sold through a secondary seller who does not ship to Canada.  I found one other iPhone Dock Fan that ships out of California, but you will pay a premium of $8.88 compared with the version I featured above.
Free Shipping
Shipping is free on this item without the normal $25 minimum. This fan ships from Hong Kong which means your wait time may be long. When I pop this item into the cart, my estimated arrival date is between August 24th and September 10th. This is the same estimated shipping date as the other option from Amazon. Both the cheaper fan from Hong Kong and the more expensive comparable model from California ship to your home free.
I could see these being such a cute gift to include for bridesmaids or groomsmen for a wedding. What cute pictures these little fans could make of your bridal party.  This is also a handy device to have in your pocket. Take this little fan on vacation, or just use it for the end of summer. This is also the perfect gift for the person who has everything.
(Expiry: Unknown)