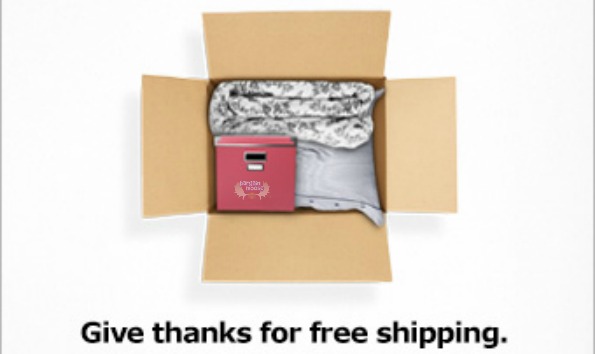 If you've been wanting something small (under 60 lbs.), now is the time to get it. Today only, Ikea is offering free shipping on your orders under 60 lbs. Normally shipping is very expensive from Ikea so this deal is something to be thankful for today.
I actually hit up the Ikea in Toronto yesterday. I had four kids with me and planned to put them all in the playland there and shop leisurely for an hour. Instead, playland was full. I rushed through Ikea listening to whining and screaming, being bumped into and cursed at. And then I dealt with my kids. Ikea was packed with entire families of 12 standing in the middle of the aisles, looking aimlessly at a slipcover or a plate. Needless to say, Ikea was not a fun shopping experience for me yesterday.
To my happy surprise, Ikea has free shipping for orders under 60 lbs. today! There were a few items I failed to pick up in my mad rush through the store, so now I can order them without anyone bothering me (mostly).
Basically, you'll add your items to your cart, add your postal code and click calculate. If you it says $0, you are in luck! Mine came up as $0.01 for some reason, but to me, that's still free! Actually, it says you'll be charged that and it will be refunded within seven days.
This is not available in Yukon, Northwest Territories, Nunavut, Newfoundland and Labrador, Manitoba (certain areas), Quebec (certain areas) and in some remote areas.
Check out our free shipping page, for other stores that ship for free.
(Expiry: 14th October 2013)