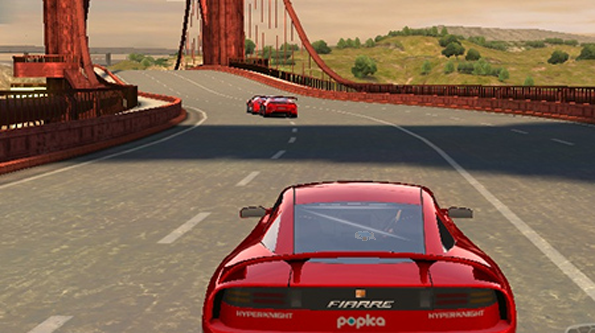 Any gamers out there that want to try out a free Ridge Racer game for their Apple device? Well IGN is currently having a promotion where you can now get a free download for Ridge Racer Slipstream for your iPhone, iPad, or iPod Touch! This racing game normally costs $2.99, You can't go wrong with a free game, especially when it's from a reputable franchise. This isn't just some no-name racer game - Ridge Racer has been popular on home consoles and arcades since 1995! Also, you won't have to worry about paying any hidden shipping fees, since you'll be downloading this game straight on to your Apple device!
The Ridge Racer series has been heralded by Namco for 2 decades as a can't-miss racing game that anyone could enjoy. I first tried out Ridge Racer on my buddy's Sony Playstation back when 3D graphics used to impress most people, and I loved how high-speed the racing was compared to another 3D racer that I was used to playing (Virtua Racing for the Sega 32X - it had its charm, but Ridge Racer was just so much funner in my opinion).
When I finally got my own Playstation system several years later, I ended up trying out R4: Ridge Racer Type 4, and for its time it had some amazing graphics! I guess that's why I have an affinity for the Ridge Racer series... I get nostalgic whenever I hear the name! Ridge Racer Slipstream is a newer entry to the series, and it looks like it's a lot of fun! Since this game is free, I highly suggest that you download it before this opportunity disappears!
Ridge Racer Slipstream normally costs $2.99 at The Apple Store. Listed below is a snippet of a review of this game from Touch Arcade:
This is a good, well-made Ridge Racer game for your mobile device. It plays the way it should, the content is fully accessible without paying if you have patience, and there's a good amount in here with more likely to come.
Happy gaming, Bargainmoosers!
(Expiry: November 30th 2014)