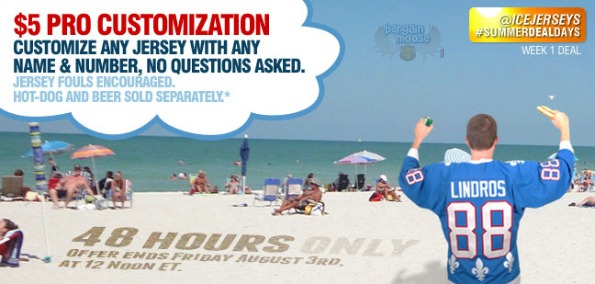 Customize any Jersey with any name & number for only $5 (Reg. $54 to $84) at Ice Jerseys.com. This is a short lived promo, ending tomorrow at noon.
Promo valid only with a new jersey purchase. This is a pretty cool promo, saving you mega bucks. The customization process at IceJerseys.com is top notch:
100% Authentic Hand-Sewn Customization
100% Authentic Pro Twill Materials
100% Authentic Pro Fonts
100% NHL & NHLPA Licensed Customization
100% Precision & Accuracy
100% Fabric (not twill!) Name Bars (if applicable/available)
100% Authentic Customization as Worn On-Ice by the Players
100% Satisfaction Guarantee
That should all equal a stellar jersey that your hockey loving mate will adore. Who are you cheering for?
Expiry: Aug 3rd Noon EST!