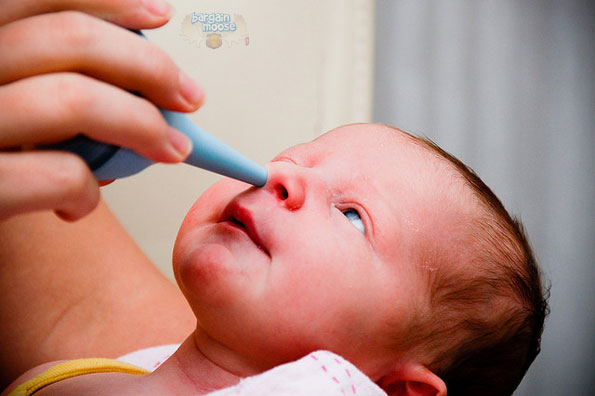 Moosers, you are hereby called to go on a quest for boogers and to help you with this task, I have found a printable coupon for a $5 discount on the HydraSense NetiRinse!
Some of you may have already began the quest for boogers using a bulb syringe but now the time has come to graduate onto more powerful methods. Be warned though that this one may only be used on kids starting from 6 years of age. Adults can of course use it as well. ;)
Although I have yet to use this particular one, I have used the HydraSense Nasal Aspirator on my baby in her first months and it worked wonderfully. We have since discontinued using it but at the time, it was a tremendous help, so I'm confident that the NetiRinse would be just as good.
According to HydraSense's site, the NetiRinse is a 2-in-1 nasal and sinus irrigation kit that helps to cleanse the nose from excessive mucus. With the flu season currently in full season, I'm sure it could be of great help to many, though it can also be used by those suffering from allergies. The kit comes with one 240 ml (8oz) bottle, one NetiRinse ComfortSeal soft nozzle and 60 per-measured salt packets.
Similarly to a NetiPot, the way the NetiRinse works is that after mixing the salt solution with water, you need to tilt your head back and squeeze the liquid into one nostril. The liquid should then come out of your other nostril and provide much needed relief from congestion. Sounds kind of icky, but I doubt any of you will be complaining when it actually works as advertised! You also need to use it anywhere from 4 to 6 times a day when experiencing symptoms of flu or allergies. Here's a useful review I found on Amazon:
Works as advertised. A bonus feature is the no need to twist neck to use. Great for seniors. Salt packs leave an after taste.
Having never bought the NetiRinse, I searched around online for it and found it on Amazon for $33.35. London Drugs, however, has it for a more reasonable price of $19.99, which means that the chances are good that you might find it for the same price at Shoppers Drug Mart.
(Image Credit: Chris&Rhiannon)
(Expiry: 31st December 2014)