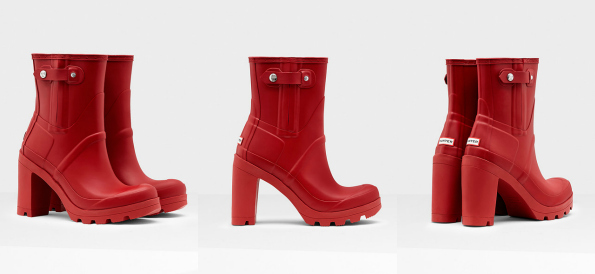 I love Hunter rain boots and never thought to see a pair in high heels! However, these are the perfect rain boots for pairing with a skirt or dress and not looking like an idiot. Wear them to a business meeting, to work, or for a night on the town while it is raining or wet. Originally $215, they are currently on sale for $150.99. All orders of $150 or more are an extra 20% off at checkout, thus these come down to $120.79 with free shipping.
This is a boot of a different sort for sure. The boots are made with a chunky heel and plenty of grip to keep your traction in the bouncing rain. There also is a thick sole - almost a bit of a platform actually - that keeps your foot from the cold hard ground. The entire boot is waterproof like all Hunter boots even though this boot has a zipper. The zipper is concealed with a rubber gusset that will keep water out and yet let you get into your new Hunter High Heel Boots with ease.
These boots are made in true Hunter style with the iconic Hunter moustache on the front. The Hunter label has been moved to the back heel instead of top centre of the boot. I like this change and would like if they did that on their regular boots as well - I do not like being a billboard even for my favourite companies.
The boot has a clean, modern style but this sale price is only available for the red boot, not the basic black boot. Pretty much all sizes except for size 11 are in stock right now.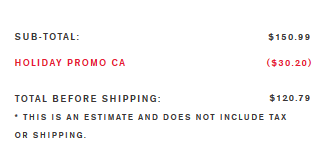 I wanted to mention a couple other boots while I have your attention. The women's original tall quilted leg rain boots are also on sale from $215 down to $150.99. They come down to $120.79 at checkout. They are a fantastic winter alternative to the classic tall rain boot.
The women's original quilted lace-up boots also take advantage of this deal marvellously. They too were $215, on sale for $150.99, and come down to $120.79 at checkout. All three of these boots just reach that minimum required for the extra 20% off, thus making each of these pairs of boots an excellent deal by itself.
(Expiry: Unknown)