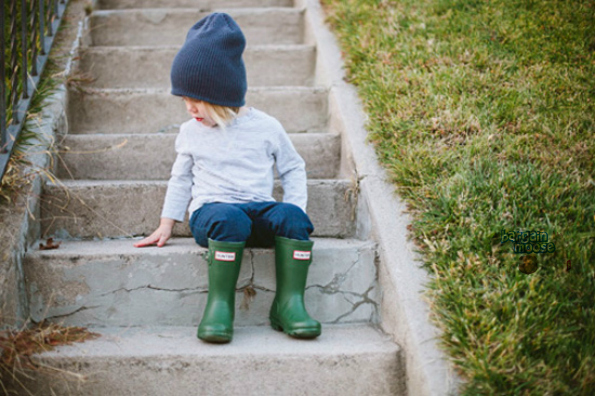 Pick up some stylish rain boots for your young ones at the Hunter Boots Canada sale. Rain boots start at just $42 with free shipping.
For the youngest of busy feet, there are the Kids First Gloss Rain Boots and the original Kids First Rain Boots. The gloss boots come in a dusty lavender and the regular boots come in bright watermelon. Each pair of boots was $60 and is now on sale for $42. If your young one wears a size 10 through 13, then these are the boots you need. I would suggest ordering a size up in the boots. You can always stick some chunky socks in to make them fit better until your child grows into them.
If your child has difficulty getting their shoes off and on, then the Kids Davison Rain Boots make the ideal pair. They have been modified from a 'traditional' Hunter rain boot to make it easier to get on and pull off. There is a built-in kick spur and pull-tab for easy removal. These boots come in a size 8 through 12. Originally $80, they are on sale for $52.
The three above pairs are the cheapest rain boots in the sale. There are three other choices on sale from $90 down to $63. The Kids Original Rain Boots come in four lively colour choices: tourmaline green, sky blue, bright peacock, and yellow chartreuse. Sizes in these start at 2 and go up to five, but there is also a 13 in there. The tourmaline green is my favourite and I would enjoy wearing a pair of rain boots in that colour.

Next, the Kids Original Gloss Rain Boots comes in two colours: dusty lavender and dusty petrol. I think gloss looks really good but it shows marks more than the matte boots do. I can barely keep my matte black boots looking clean so I would never buy a pair of gloss for myself ( a low maintenance person) let alone kids. For a little of both worlds, purchase the Original Kids Tonal Moustache Rain Boots where the upper portion is gloss and the lower is matte.
I know that Hunter boots are expensive, especcialy for growing feet. However, they can be an investment pair if you have more than one child. Additionally, Hunter boots have excellent resale value. Once your child has outgrown the boots, post them on a local Mom & Tot Clothing Swap to get most of your money back.
(Expiry: Unknown)