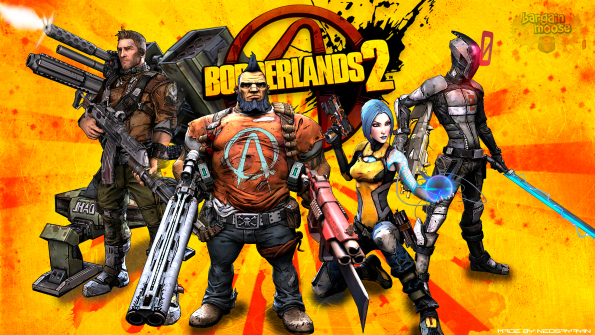 The Humble Borderlands Bundle is just the bundle of games and DLC content that you want. Pay what you want for Borderland and three DLCs for the game.
You receive the original Borderlands game ($21.99) and the following three DLC packages for whatever you are willing to pay (as low as $0.01!):
Borderlands: The Zombie Island of Dr. Ned ($10.99)
Borderlands: Mad Moxxi's Underdome Riot ($10.99)
Borderlands: The Secret Armory of General Knoxx ($10.99)
If you purchased each DLC and the game independently on Steam, then you would pay $54.96. Yet, Steam Powered offers a 'game of the year' edition for $32.99 (complete DLC package with the Borderlands game), thus this basic offer is worth $33.
The second tier of this deal is really where it is at. Pay more than the average - currently $6.05 - to receive all the following content:
Borderlands 2 ($21.99)
Borderlands 2: Psycho Pack ($10.99)
Borderlands 2: Mechromancer Pack ($10.99)
Borderlands 2: Creature Slaughterdome ($10.99)
Humble Store 75% off Borderlands: The Pre-Sequel Coupon
Let us talk about this last feature. You will receive a coupon for 75% off Borderlands: The Pre-Sequel. Borderlands: The Pre-Sequel retails for $59.99 thus this voucher is worth $44.99! You only need to pay just over $6 Borderlands, Borderlands 2, all their DLCs and this voucher that will save you $45 on the pre-sequel.
For this offer, the second tier is my favourite because you get such incredible value overall. You are looking at around $130 worth of games for around $6. That is just from these two tiers and uses the game of the year edition as the base price for the Borderlands package. If I used the individual price for the first tier, then the value would be more.
There is a third tier for those with deep pockets. Pay $15 or more to unlock:
Borderlands 2: Ultimate Vault Hunter Upgrade Pack 2 ($5.49)
Borderlands 2: Headhunter 5: Son of Crawmerax ($3.29)
Borderlands 2 Season Pass ($32.99)
2K Store 25% off Merch Coupon (value ???)
The third tier still offers excellent value for your money but my money is on the second tier. I do think the last part - the 25% off merchandise at the 2K store - is pretty cool as the total value of that depends on how much you want to purchase.
As the Borderlands series is such a popular series, I figured this was a pretty hot deal for all our wonderful gamers out there.
(Expiry: 7th July 2015)