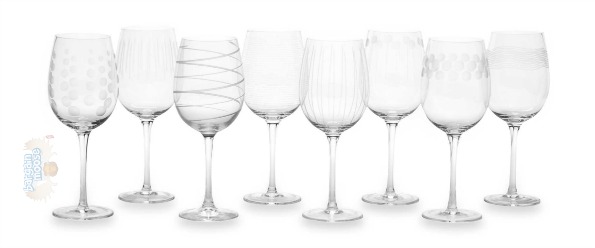 Hudson's Bay currently has wine goblets, flute glasses, and other beverage glasses on sale for up to 65% off.
The clearance section is ripe with excellent deals on glassware. If you are looking for a pre-made set, then try out the Mikasa Ridgefield Smoke Goblet Set of 4 or the Ridgefield Smoke Wine Glass Set of 4 that are on sale from $90 down to $36 per set. The smoked glass really gives this glassware a distinct look. While these glasses may not match with all dishes, you may find they look smashing with stoneware in deeper colours.
Sometimes a set of four just will not do when six will be dining together. Mikasa also offers sets of six glasses for every occasion that will not break the piggy bank. The Alexandra Red Wine Glasses Set Of 6 were $80 and are now $29.99. These glasses are perfectly shaped for that standard accompaniment to red meat: red wine. Shaped slightly different (though hard to see), this Alexandra White Wine Glasses Set of 6from Mikasa is also on sale from $80 down to $29.99.
Now, I am not a wine drinker, but I do love a glass of bubbly every now and then. The Alexandra Flute Glasses Set of 6would be perfect for champagne or even morning mimosas with your lover. Originally $80, they are on sale for $29.99.
Do you already have a set of fancy glasses but one has broken or you need to add to your set for a special event (or an ever-expanding family)? This sale also includes single glasses for many popular sets. I own two Love Story Iced Beverage glasses from Mikasa. They match my china set. However, I only bought two glasses originally and I would prefer four. Originally $35, the love story glasses are on sale for $14 each.
For more of a tumbler style glass, the D Amore New Shape Flame Double Old Fashionwill work well. Drop in a bit of brandy and a couple ice-cubes for the perfect evening drink. These glasses can also be used for water (what I would use them for), liqueur, and other hard alcohols. Originally $45, this glass is on sale for $18. If you want a different pattern, then pick up the Arctic Lights Hiballon sale for the same price.
Hudson's Bay Canada offers free shipping on orders of $99 or more or on orders of $49 for HBC cardholders. Orders under the free shipping minimums start at $5.95 (for under $50) for shipping and go up from there.
(Expiry: Unknown)