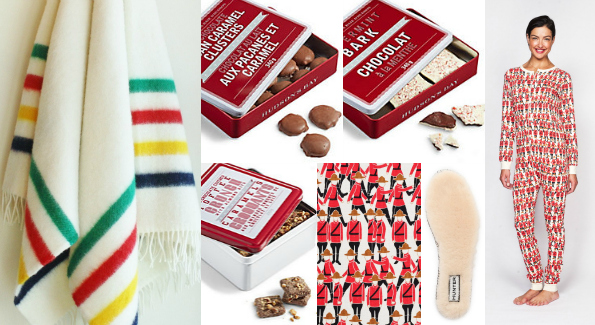 Hudson's Bay Canada has just launched free express shipping with no minimum for today! This is a deal you will not want to miss if you are still shopping for Christmas gifts. It is also a very rare offer from the company so i am delighted to be blogging about it today.
All you need to do is fine a great deal that you must buy. I am particularly into onesies this year as they are warm, cuddly, and pyjamas that take zero effort. The Drake General Store Mountie Onesie was $45 and is now on sale for just $27. This adult onesie features a Canadian Mountie print that is sure to scream your Canadian heritage. What a great price for a onesie as well.
Are you looking to give the gift of Hunter this year? If so, I would gladly be on your list of recipients. These HUNTER Pleated Rib Original Tall Boot Socks are on sale from $50 down to $35 in green or red. Alternatively, the HUNTER Fleece Boot Socks were $35 and are now just $25. I want the HUNTER Luxury Shearling Insoles on sale from $30 down to $24. They look so incredibly comfortable I could just melt in my boots.

For the person who has everything, why not buy them a Hudson's Bay Throw. It is a lot like the official Hudson's Bay Blanket - but costs way less. There are so many patterns to choose from. I like the Millenium Stripe Polar Fleece Throw and the Multi Stripe Polar Fleece Throwbest. Each is on sale from $40 down to $30.
Everone knows that I am a big chocolate fan. This Milk Chocolate Pecan Clusters Tin, this Dark Chocolate Enrobed Caramels with Sea Salt Tin, and this Milk Chocolate Covered Toffee With Almonds Tin are on sale from $14.99 down to only $8.24. What a great price for a collectible tin and the goodies inside. The 32 Piece Box of Belgian Chocolatesis on sale from $29.99 down to $17.99. This is sort of like saving and indulging at the same time.
For a larger box of chocolates, try the 94-Piece Champs-Elysees Assorted Chocolateson sale from $43.99 down to $26.39. That is an unheard of price for Lindt.
I'm not quite sure when this deal expires, so hop on it quickly. There are also a few notes I must mention. Orders that are filled by vendor partners are excluded from Express shipping. Express shipping does not guarantee that orders will arrive by December 24, 2015 - sorry!
(Expiry: Unknown)