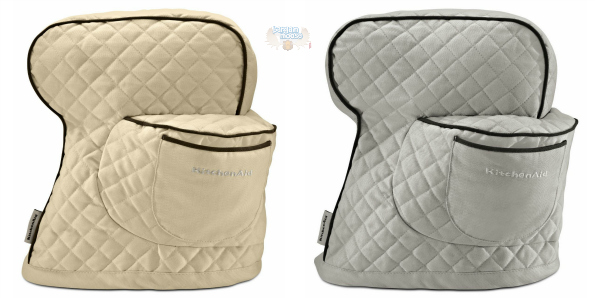 Hudson's Bay Canada has a huge KitchenAid sale on right now. In the same, I found the rare and coveted KitchenAid Fitted Tilt-Head Mixer Covers on sale from $39.99 down to $29.99. Not only are these rare to find in Canada, this is also a good price.
There are two colours of KitchenAid mixer covers to choose from:
I like the silver Frost best and think it would look amazing over my purple Kitchenaid mixer. I notice that my mixer gets dusty and little splatters from other appliances when not in use, so this cover would be amazing. It fits most tilt-head KitchenAid Mixers like the Artisan. One reviewer said:
Love this new Kitchenaid mixer cover. It is a far cry from my old, white, stained, slip-on,over washed, cover. It is well constructed, zippered back closure and I chose grey which looks so handsome on my counter in my new grey/white kitchen.
According to other reviews, this does not fit the Professional 600 stand mixer. There is a small pocket on the outside of the cover that can fit the KitchenAid spiral-bound book that came with your mixer. Use it to hold a few favourite recipe cards as well.
I cannot find these any other place in Canada except through resellers. The Amazon Canada marketplace has them for $85 plus shipping. eBay Canada isn't much better: sellers there start at $42 plus shipping. I know that the mixer cover originally retailed for $39.99 as that is the price that KitchenAid themselves lists for the product (but it is OOS).
I turned to the USA to price compare better. Kitchen Kapers, Everything Kitchens, and Bed Bath & Beyond all sell the mixer cover for $34.99 USD. Only Amazon.com was competitive with the Khaki colour $27.99 USD and the Silver Frost priced at $34.30 USD.
Given that these covers are so hard to come by in Canada and they are quite well priced given the prices even in the USA (which do not include duty and taxes), I figured this was a deal well worth posting.
Shipping is free on orders of $49 or more with your HBC Card. Orders under that cost $4.95 to ship, which is not a bad price.
(Expiry: unknown)