Hudson's Bay Canada Fleece Throws Were $40 | Now $30 + Shipping (EXPIRED)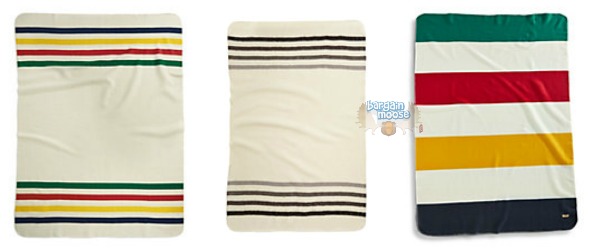 Hudson's Bay has a great deal of the day on today, with all of their iconic fleece throws now only $30, with a regular price of $40.
In every style magazine I see lately, the vintage look of Hudson's Bay is featured. Their classic green, red, yellow and blue stripes are so classic and are making a huge comeback. I definitely see this a cottage look, but it could also be a look for your home, especially if you don't want to overdo it. The fleece throws are great because they add just that little bit of Canadiana.
There are three different throws available. The first is the multistripe polar fleece throw. This is one of the most classic-looking throws and it has absolutely amazing reviews. Reviewers love how soft and cozy the throw is, but also love the classic look. They cite that it is perfect for gifts for friends overseas, as the Brits and the Americans love the look as well.
This is an awesome throw! It is cozy and warm without taking a lot of room and is a very lovely accent. I bought several and gave them as gifts to our visiting foreign guests
If you'd prefer a more chunky stripe look, get the polar fleece blanket in chunky. Again, the reviews are fantastic.
If you want a more modern look, your last choice is the Millenium stripe polar fleece throw. Instead of the signature colours, it is featured in more neutral tonal stripes.
On a cold day like today, I wish I was wrapped in one of these throws on the couch with the kids, who are home for a snow day today. I'd like to get one of each, so everyone knows whose throw is whose! I also love that the throws come with their own carrying straps, which make it perfect to take on road trips, camping and to take to and from the cottage.
If you don't want to spend the required $99 to get free shipping, your shipping will be about $5.95 for one throw. Personally, I'd get three and save myself that fee.
(Expiry: 2nd February 2015)