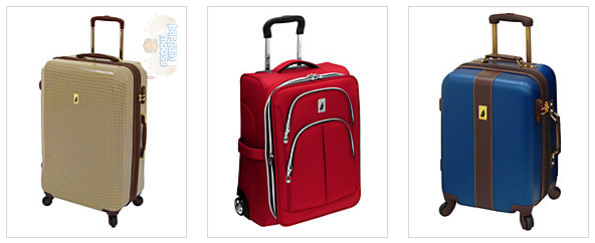 You may have heard that both WestJet and Air Canada are now charging for every checked baggage. It will now cost you approximately $50 per bag round-trip. A good way to save on luggage fees is to downsize your luggage to carry-on size. During Bay Days, Hudson's Bay Canada has some good deals on quality carry-on luggage that will save you money in the end.
Let us clarify the airline luggage changes first:
Air Canada
Any economy flights will now incur a luggage fee of $25 per checked bag each way. Flex and Latitude fares allow your first bag free for tickets issued on or after September 18, 2014 for travel on or after November 2, 2014.
WestJet
Any economy flights will now incur a luggage fee of $25 - $29.50 per checked bag each way. Flex fare and Plus fare allow your first bag free. This charge is for domestic flights. In addition, if you are traveling outside of Canada, then your first bag is free. I assume that is true for Air Canada as well.
This means your trip can get expensive in a hurry if you are flying domestic. Each airline allows two free carry-on bags per person and I highly recommend maximizing this feature. One must be able to fit under the seat in front of you. The maximum dimensions for carry-on luggage (maximum 22lbs each) are:
Standard article: 9" x 15.5" x 21.5"
Personal article: 6" x 13" x 17"
For your standard article, I recommend picking up a carry on for each member of your family. I picked out a few suitcases under $80:
If you take just two trips with any of these carry-on size luggage instead of checking a bag, you will be saving money. Personally, I am eyeing up a slight more expensive piece. I want the It's a Small World 21 inch by Heys as they are my favourite brand and that luggage is just darling. Originally $300, it is now on sale for $120.
Shipping is free on orders of $49 or more if you pay with an HBC Card. With all other currencies, shipping starts at $5.95 and is free on orders of $99 or more.
(Expiry: 4th November 2014)