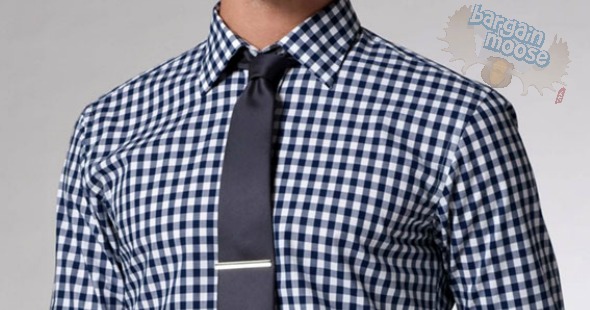 Today Hudson's Bay Canada has a great promotion. You can buy one get one free on dress shirts and ties. If you want to revamp your hubby's wardrobe without emptying your wallet, then this might be your chance. Dress shirts at TheBay.com range from $35 to $85 and ties range from $15 to $85, so you can see the discounts to be had.
I have four friends getting married this year, and there is no way I am going to wear the same dress to all four weddings. Thus, my date will need four different shirts and ties to match me. That can get rather expensive, especially if you consider that these shirts and ties from TheBay.com can cost up to $85 a piece. Can you believe $85 for a tie?! For that amount of money the tie better come with Christian Grey or something. I wonder if he got his tie from Hudson's Bay? ;)
Anyway, today dress shirts and ties from TheBay.com are buy one get one free. You can find popular brands like Arrow, Calvin Klein, Tommy Hilfiger and more. If I were buying dress shirts, I would grab a couple of the $35 dress shirts. Once the discount is automatically applied at the check out process, you will be left paying just $17.50 per shirt, which is less than you'll pay anywhere else. There are couple ties for reasonable prices, but I just can't picture spending $40 or more on a tie. Keep in mind that the item of lesser value is going to be the one that is discounted at the check out. The Countess Mara Silk Pocket Square isn't really a tie, but it counts in this promotion nonetheless. This square is just $14.99, but if you throw two in your cart you will pay just $7.50 each. The least expensive tie is the Izod DottedSilk Tie which ranges from $21 - $35 and comes in two colours. The purple is the better option price wise as it is just $21. The blue version of this tie is $35. If you throw both in your cart, you would be paying just $17.50 each tie. Where as if you buy two of the purple ties, you will be paying just $10.50 each tie.
Plus TheBay.com offers free shipping on orders over $99. 
I did see some pretty cool Do-It-Yourself projects with shirts and ties, if you were interested. Once you make your man wear four different dress shirts and ties this summer he may want to burn them at the end anyway. Or perhaps they will need to rehome their old ties to make room for the new ones :)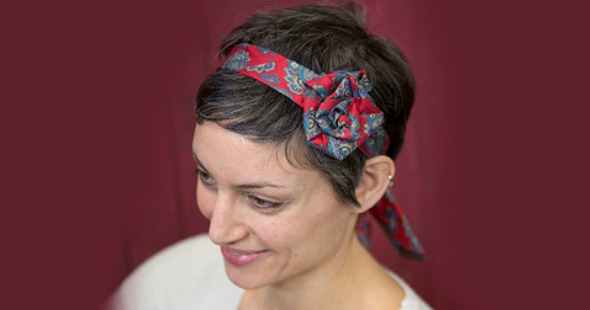 I have super curly hair and not many store-bought headbands can hold this beast back. I tend to make my own headbands so that they are stronger while being stylish. This 5 Minute Headband is one of my favourites, as long as you can get your hands on a tie you like. This tutorial says that you need a sewing machine, but I have always sewn them by hand. You will also need a piece of elastic. I used a piece from a store-bought headband that snapped on me.
Fabric Flower for Your Headband
If you want to make your headband a little more fancy, add a flower by following this tutorial. Silk ties are great for this, but you can really use any fabric you like. Add a few cute beads to the center as an accent, or use a button if you like.
There are lots of other ideas that I couldn't find instructions for like Christmas stockings, tote bags, watch bands, skirts, quilts and more. Take a look through Google and see what your creative mind leads you to.
(Expiry: 8th July 2015)