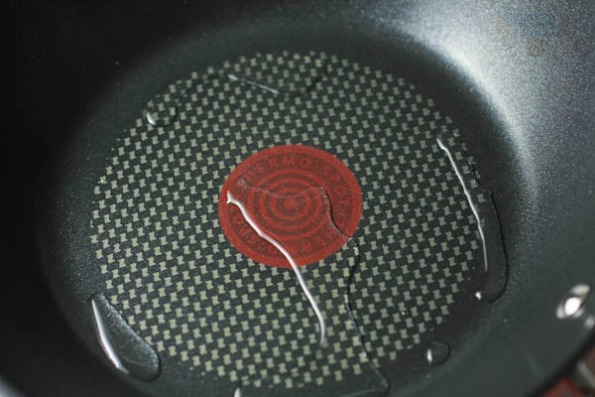 The Bay Canada has a super sweet deal on T-FAL Talent frying pans right now. Receive 70% off the 20 cm, 24 cm and 30 cm size pans.
A little background if I may. You may have noticed that Margarita posted a fantastic deal on a set of T-FAL Bliss pans yesterday. The Bliss is one of T-FAL's basic line of pans whereas the Talent is one of their higher end lines, thus there is a huge price difference between the two lines. Thankfully, the sale price brings the Talent line down into the price range of common mortal cooks.
The Talent set is made of heavy gauge aluminum with a steel base for better heat distribution. The steel also prevents the pan from warping at higher temperatures. These are high-sided frying pans to increase cooking capacity. They also have some advanced anti-splatter technology. The Talent line specifically features "6 layers of ultra hard non-stick coating, safe to use on metal utensils." It is rather rare that any non-stick company says you can use metal utensils on their products so they really must have put a lot into this line.
Talent 20 cm Fry Pan- Was $64.99 | Now $19.49
A quick price comparison shows us that Amazon Canada is selling this pan at $46.98 and Future Shop has it for $46.98 as well. Hudson's Bay is charging less than half the price of competitors!
Talent 24 cm Fry Pan - Was $79.99 | Now $24
Amazon Canada sells the same pan for $55.99 and Best Buy Canada offers the T-FAL Talent 24cm pan for $61.98. Yet again, Hudson's Bay has by far the best price on this frying pan, undercutting the competition by over 50%.
Talent 30 cm Fry Pan - Was $99.99 | Now $29.99
A quick price comparison for this size of pan showed it for $89.10 at Amazon. Neither Best Buy nor Future Shop stocks the larger size.
Overall, I would say this is a fantastic deal for anyone needing new cookware. If you are on a really tight budget, then I would suggest buying the Bliss set that Margarita blogged about. However, if you can afford a bit better quality I would spring for this set of three Talent pans instead as they should last longer.
Shipping is free on orders of $49 or more if you pay with an HBC Card. With all other currencies, shipping starts at $5.95 and is free on orders of $99 or more.
(Expiry: unknown)