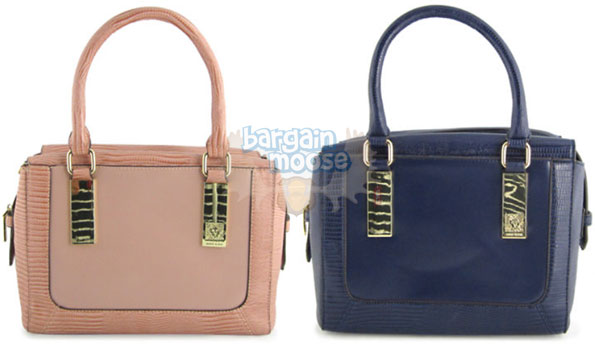 A woman can never have too many handbags, so if you're looking for a new one to add to your collection, Hudson's Bay has currently dropped the price on plenty of designer handbags, such as this Anne Klein Bar It All satchel, which has been slashed in price by 60% and can be had for just $48 instead of its original retail price of $120.
Anne Klein handbags are designed with a timeless look in mind and this satchel is definitely no exception. It looks like it could easily be worn to just about any occasion and even during the day or night.
You can choose between these four colours: black, mauve, navy or raisin. I have been particularly obsessed with all things pink lately (I even bought light pink jeans from Gap Canada recently) and so, I would totally go for the mauve one, which as you can see on the picture above, does appear to have more of a pink hue to it.
In terms of material, it's made from a faux leather and features the following dimensions: 12"W x 8"H x 5"D.
According to the description on Hudson's Bay's site, this satchel is convertible and usually what that means is that it comes with an additional strap that you can use to wear the purse as either at waist length or closer to your chest. This additional strap isn't visible on the picture though, so I may be wrong!
In fact, it's not currently available for purchase, but at Macy's, this same satchel is actually on sale for $80.34 (reg. $115.35), which is nearly double the Hudson's Bay's price.
Originally, I was going to blog about the Coach Bleecker large preston satchel, which was priced at $440 and is now down to $264. Even the sale price is a little high for what I would normally pay for a handbag but the fact that it's a Coach bag and that it's 40% off essentially is a very tempting deal to take advantage of. This purse features a striped coated canvas with a leather trip, multiple pockets on the inside, a zip-top closure and handles with a 7.5" drop. Personally, I love this purse's design as it looks absolutely perfect for summer.
Make sure to click the link above to check out all of the rest of the handbags on sale right now as there are more than 400 designer ones to choose from! Shipping is free on orders over $99.
(Expiry: Unknown)