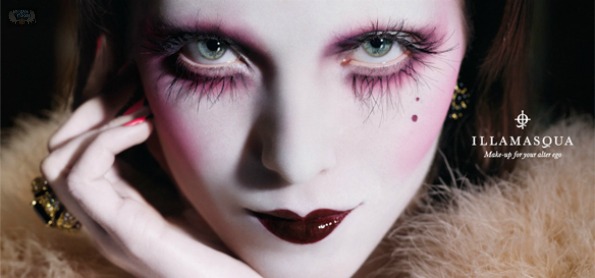 It is time to replenish your makeup or buy stocking-stuffers for the ladies! Hudson's Bay Canada is offering 50% off Illamasqua makeup, nail polish, and accessories. This is a lovely beauty on a budget sale!
Makeup is pretty personal. Everyone has their favourite shades and wears what they think looks good on their skin. Therefore, it can often be difficult to gift even though cosmetics make a practical gift that is pretty as well. Here are some of my suggestions on gift-able cosmetics.
Nail Varnish- Was $17 | Now $8.50
Nail polish is one of the easiest items to gift to another. Most women like to experiment with their nails, and come autumn they will be looking for deeper tones to complement their changing wardrobe. Illamasqua Nail Varnish comes in 16 different colour options with your choice of matte or shimmer. I like Nomad, a dull green, and Gamma, which is a pumpkin orange.
Masquara - Was $32 | Now $11.50
Mascara is actually easy to gift because most everyone wears black. It is only the odd woman who digs out a funky colour and goes wild. Just be sure that the person you are gifting it to actually uses Mascara. I cannot let anything come within a mile of my eyes (so sensitive), so I would be a poor one to give any eye makeup.
On the subject of eyes, I cannot help admiring the false eyelashes that Illamasqua has for sale. I have always wanted to try a pair of false eyelashes but there is no way I could get them on my eyes. Both theFalse Lashes and the Grandeur False Lashes are on sale for 50% off. The regular lashes are now $9 (were $18) and come in seven amazing different styles. It is so hard to choose just one! The fancy lashes were $22 and are now $11.
Foundation Brush Was $41.50 | Now $20.75
Makeup brushes make awesome gifts. I just had to buy myself a new foundation brush because my previous brush was shedding into my foundation. You can imagine how annoying that was! While I only use a foundation brush, there are plenty of different styles of brushes you can buy. They make easy gifts as almost every woman uses them and always appreciates a new one.
When you use your HBC card to checkout, you will receive free shipping on $29 or more of cosmetics. That makes this an even better deal.
(Expiry: Unknown)