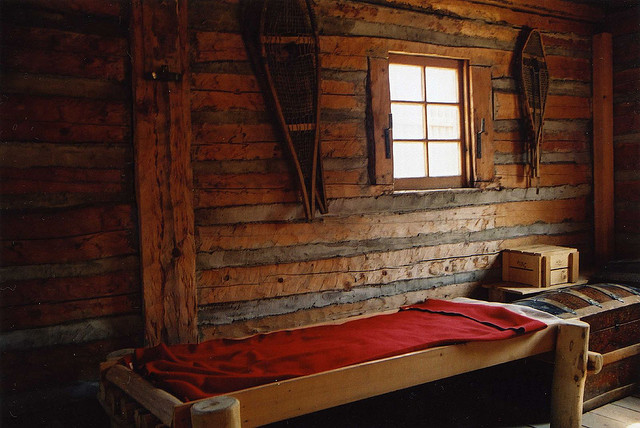 I've blogged a few of Hudson Bay's sales on their own line of home decor and more a few times with good response. So, I thought I'd tell you about this fantastic deal, just in time for opening your cottage, that gives you $100 off Hudson's Bay Company blankets. There are varying sizes, styles and prices, but they are all $100 off their regular price.
With the weather getting ever-warmer and this week ahead looking fantastic in Ontario, I'm sure people are starting to travel north to their cottages. One cottage look that has not died over the many years it has been around, and is in fact seeing such a revival in style magazines, is the Hudson's Bay Company look. It doesn't just have to be for your cottage, but I think it is just such a classic look at your Canadian getaway spot.
The most classic look is of the multi-stripe and this blanket, interesting enough, has not been out of production since first produced in 1800! Hudson's Bay says it is their most popular blanket, through all of these years, as it really identifies as Canadian. Funnily, it is made in England, but I like that it was not made in China or another country where they are doing it as cheaply as possible. Apparently, where it is made is the finest woolen mill in England for centuries. It is made from 100% woven wool, so you know it will last and keep you warm on those cool nights. The king size is regularly $495 and now $395, queen was $395, now $295, twin was $295, now $195 and the full was $350, now $250.
With many reviews, every single reviewer but one gave it a five-star rating.
The HBC point blanket is a warm, cozy, and colourful addition to any room. Covering a bed or ready to reach for to keep the chill away, I love that I've purchased such a useful but iconic item. I look forward using it and hopefully passing it along.
I love the idea that this blanket will be passed on. I think that right there is a reason to buy it.
If you want something more modern, but still with that iconic stripe look, the Milennium stripe point blanket has the same price points as the above blanket, but it has a more muted look.
Shipping will be free on any of these blankets, being over $99.
Photo credit: BJ
(Expiry: Unknown)