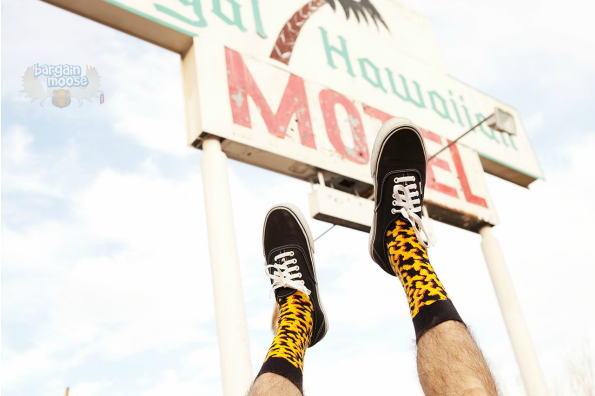 HS Sweden is back with their free shipping no minimum promotion on socks, underwear, and tights. This is a fantastic promotion as their minimum is usually $50.
I took advantage of this deal last time. I purchased one of their brand new pairs of athletic socks - the Athletic Terry Sock in black with large dots. The sock cost me $13 and was really worth every penny (woops... nickel!) I spent on them. I own many HS Sweden socks, but this sock was far more comfortable, soft, and supportive than any of my other socks. I love the thickness of the material. The cushioned sole is also fantastic for long walks! The arch support is awesome too - it just feels like a gentle hug on your feet. Needless to say, I highly recommend buying a pair. I am going to buy another pair - I just need to decide on what design I like best.
The athletic socks cost the same as HS Sweden's normal socks. If your budget is not quite that large then I recommend visiting the sock outlet! In the outlet section, I found some limited edition socks on sale. They finally have the Curtis Kulig Sock in red and black on sale from $13 down to $9.10 each. Special Edition socks were always excluded from discounts (like 15% off or so). Thus, the outlet is the only way you will receive a discount on the limited edition socks. I like the black sock with the red text on it.
As I have mentioned before, ankle socks are my favourite. I found three different designs of ankle socks, on sale, in my size. This is the first time I have seen the Furry Dots Ankle Socks. The purple base has furry orange dots all over it. I am not sure how durable these socks would be but they rank pretty high up on the cuteness scale. Ankle socks are on sale from $12 down to $8.40 each. I will be picking up at least one or two more pairs of ankle socks.
Now, all these socks are shipped in via USPS out of the USA (and made overseas) thus duty may apply. However, in all my HS Sweden socks purchases I have never been charged duty - including my order from a month ago - so I am optimistic about my next purchase as well.
(Expiry: 5th April 2015)