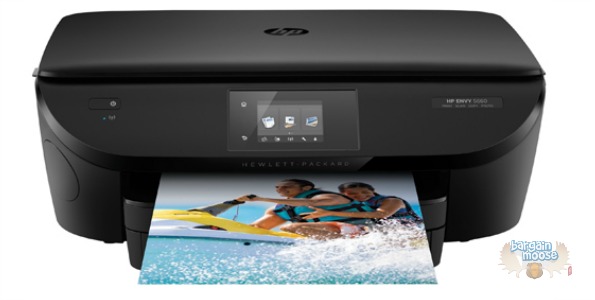 Pick up the HP Envy 5660 Wireless All-In-One Inkjet Printer today at a steal. This printer was $110 but is now only $40. The printer is available at both Futureshop.ca and it's sister company BestBuy.ca for the same steal price. If it is out of stock at one, you can grab it at the other. Both stores offer free shipping with a minimum purchase of $25 and this qualifies.
A printer can be super handy to have at home. If you are like me, you may have run into trouble when trying to print from all of your devices. It may be time to upgrade for me. I need a printer that can connect to several Apple mobile devices, my laptop and my tablet. When did we get so many different types of devices in our house?
This printer does it all wirelessly and is a simple plug and play installation. You can connect it to your iPhone, IPad, Android device and more wirelessly. It has a separate tray to print 4x6 photos quickly without switching out the paper. You can even crop and do basic edits right from the colour touchscreen on photos and documents. The cartridges are high yield ink cartridges, which should help you to conserve ink costs. This printer also has a 1-year manufacturer's warranty on both parts and labour.
This particular printer does not seem to be in stock anywhere else besides Best Buy and Future Shop. Perhaps it is simply last year's model. The only place I found it in stock was from a third party seller on Amazon.ca for $170 which seems almost silly.
A comparable printer would be the HP Envy 4500 Wireless Colour Inkjet e-All-in-One Printer. I have found this comparable printer @ Amazon.ca for $99. I also found this same printer @ Staples.ca for $99. You could also pick up this comparable printer at BestBuy.ca or Future Shop.ca for $107. Better to buy the other all in one model now while it is a steal of a price.
There are several people talking about this printer on Futureshop. Overall it seems to be well liked. One user gave the tip to make sure to look for the ink cartridges in the Styrofoam casing, as they almost threw them out accidentally. Here is one happy review:
Printer very easy to setup, comes with ink cartridges. Print quality is very good and the wireless feature is great. Easy to print pictures from my iPhone 6. For the sale price, you can't go wrong.
Once you get this printer at home, you can take advantage of all the amazing free printables available online. Check out my Valentine's Day posts for 12 Last Minute Valentine's Day Printables or 6 Free Printable Classroom-Style Valentine's Day Cardsfor some great ideas of projects you can do with this printer. A printer can be handy for that last minute gift you forgot need now. I plan on featuring some more free printables in the near future that you can also make once you have this printer home.  This sale is available for a few days, but I would suggest ordering it now while it is still in stock. Plus you want to get started on all those fun DIY printable projects even sooner.
Bargainmoosers, what would you print on your new printer?
(Expiry: 19th February 2015)