How To Plan a Frugal Easter Dinner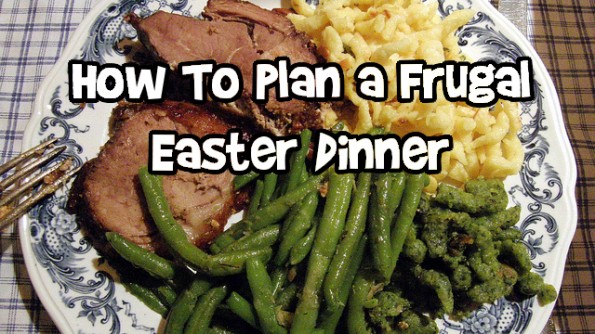 This weekend I am having nearly 20 people over for Easter dinner.  My house is about 1900 square feet- not small, but not exactly large either.  We definitely don't have enough seating for 20 people to eat, and I'm scared of the cost of feeding that many people.  What to do?  I want to plan in advance to make the get-together as successful as possible, and I want it to be as frugal as possible (plus I need to space plan to ensure that we have space for everyone to eat).   In addition, we have the following dietary restrictions in our family:  veganism, dairy allergy, celiac disease, egg allergy and shellfish allergy. Lots of things to think about, and lots of stuff to plan.  Plus, we're having representation from my husband's family and my family, so I want to ensure that people feel welcome and engaged.  Here is what I am planning to do for our Easter dinner.
Issue- planning a frugal and healthy meal:
We have waited until this week to buy the meat for Easter, as typically meats like turkey and ham go on sale the week before Easter.  Since we waited until the last second to purchase our meat, we have been flexible with planning our menu.  We have decided that we are actually going to cook a delicious roast beef and also have a spiral ham, which is my favourite.  It's not exactly traditional, but both meats were on special at our local grocery store, and we like changing things up.  The ham is on sale for $1.99 per pound, which is an amazing price.  We will purchase a 10 pound ham.  The roast beef is on sale for $4.99 per pound, which is nearly $9.00 off the normal price.  We will purchase a 5 pound roast beef.  According to thekitchn.com, for a meal like ours where there will be substantial sides, we should budget for about ½ pound of meat per person.  With 20 people in attendance, that would mean we will need approximately 10 pounds of meat.  We always like to have extras, so 15 pounds of meat is great for us.  Purchasing meat on sale will cost us approximately $45 instead of over $100.
If you want an ultra-frugal menu for Easter check out the menu on notconsumed.  Between pairing coupons with sale items and using what she has on hand, she has planned an Easter dinner for 5 for $11.42.
Issue- numerous dietary restrictions:
The good news about my family's dietary restrictions is that there is one common denominator, if I make vegan dishes, that will keep everyone happy.  I found vegkitchen and all my worries are solved.  These recipes look awesome.  I will definitely make some of these side dishes including the deviled tomatoes recipe and citrus roasted tofu as a veggie main.
Issue- drinks, to have booze or not:
Alcohol is expensive.  Typically when we host an event we like to have a themed cocktail and wine and beer to go with our meal.  We find that people generally are more relaxed (especially my family) once they have had a drink or two.  We will probably have a few bottles of wine at the table, and I saw a television advertisement the other day for a delicious-looking Grand Marnier based drink called the Grand O.  This might be the signature cocktail we make for our clan.  In addition, we will have sparking water available for people to enjoy.
Issue- decorating the house on a budget:
I am not a decorator.  I don't get off on having themed paraphernalia up all over my house.  My mother, on the other hand, loves it and has a stock pile of themed decorative accents for all occasions.  I have none of these, but this year I'd really like my house to look festive but I don't want to spend a fortune on it.   I am also not crafty, so I need decorations which are really, really easy to do.  I like the idea of decorating my mantle like this example on about.com.  I also like the idea of making a homemade egg shaped garland like this one from ediva.  This would be a fun craft to do with my girls one night.  I know it isn't environmentally friendly, but we will be using disposable plates and cutlery on Saturday.  I found this cute idea to wrap/store individual disposable cutlery on spoonful.com, it's another cute and easy craft that my girls can help me with.  Now I'm excited about the decorating!
Issue- keeping it interesting:
We have a variety of ages in our family, people range in age from 9 months to 83, so I want to find some activities that will keep everyone engaged.  Check out this wiki on Easter themed activities.  I am definitely going to do #1 and likely #6 as well, as they are both really easy and fun to do.   Everyone loves guessing the number of items in a jar, and it's a great way to get people talking to one another.  And the easter bunny game is just plain silly and fun.  It will be a hit with people of all ages in our family.
We're very fortunate with our family in that everyone contributes to most large family gatherings.  Even though there is a lot to do, my family will help quite a bit.  I don't want to let my stress cloud the reason we get together, to celebrate Easter.  I'm sure our family dinner will be outstanding, but I can't wait until it is over!
Bargainmoosers, what are your frugal Easter party tips?
Photo credit: Richard Hemmer