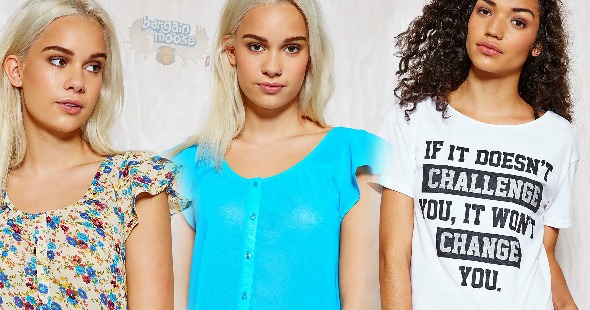 Urban Planet Canada has a variety of trendy items on sale for 50-70% off right now. You can also sign up for email updates to get a gift card for $5 off your next purchase over $10. When you consider that some of the clothing items in the sale section on Urban-Planet.com come as low as $4.50, adding that $5 gift card makes for some hot deals. Spend $60 or more to get free shipping.
Once signing up you will receive a $5 digital gift card. This gift card can be used towards any purchase that is $10 or more. The code you receive will be unique to you, so don't share it with anyone if you plan on using it. The code you receive will only be valid for 30 days after signing up, so use it wisely (and quickly). Once I received my free $5 digital gift card, I started shopping the Urban Planet Canada website for some deals to combine it with. I was blown away by the discounts - but finding your size may be a little difficult if you hesitate too long. Some items are on sale for up to 70% off, and some items are buy 1 get 2 free. The discounts are applied in your cart, so you don't see the actual savings until you have selected your desired items.
The Sheer Floral Button Up Blouse is a cute must-have for any summer wardrobe. This cute little number is on sale from $15 down to just $4.50. There are two different options for this shirt - floral or plain. Both options have two different colours to choose from, so hopefully you can find your size in one of the colours. I added the Sheer Floral Button Up Blouse in Ivory as well as the Sheer Button Up Blouse in blue, since both of those options had sizes small, medium and large still available.
I am a sucker for graphic tees, so I also added this Graphic High Low Tee to my shopping cart. The print on the front says "If it doesn't challenge you, it won't change you". Seems pretty motivational, especially since it is on sale from $12 down to $6.
If you are looking for a top that looks good with everything, then you may like this Layered Swing Tank With Necklace. This top is available in both black and white, but I love it in white. It is on sale and you will pay just $5.40 instead of the regular price which was $18.
So I added all of these items to my shopping cart, and my total was exactly $60. Once the discounts were applied, my total was $21.42 and then I applied my $5 free gift card and ended up paying just $16.42 for all of this! Pretty hot, right?
Shipping rates can be a little complicated at Urban-Planet.com, so just keep that in mind while shopping. If you spend under $24.99, you will spend $8 on shipping. If you spend $25 - $59.99 then you will spend $9 on shipping. Your best bet is to try and reach a total of $60 so that you get free shipping.
(Expiry: 30 Days)