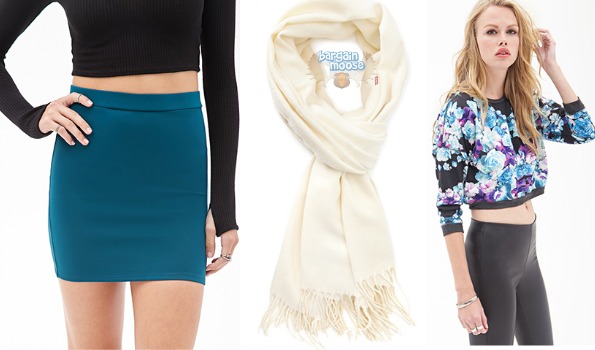 Right now over at Forever 21 Canada, they have discounted sale items up to 75% off. Then stack a coupon code to take an additional 30% off your total order. Your combined savings can total up to 85% off the original price. The cherry on top is Forever 21 is offering completely free shipping today with no minimum.
I never need an excuse to buy another scarf. I wear scarves all fall, winter and spring and they never sit dormant in my closet. Right now, you should grab the Classic Tasseled Scarf  in the colour cream. Originally, $15.90, this scarf is on sale for $3.99. Use the coupon code to take an additional 30% off your order and watch the price drop to $2.79! Wow, that saves you 82% and is an amazing price for a scarf! The only colour still available is the cream colour, so grab one quick before they are gone.
Need more excuses to shop?  Check out the Boxy Floral Knit Sweatshirt. This sweatshirt was $27.80, is on sale for $5.99. Once you add the coupon code, that sweatshirt drops to $4.20. That saves you 85% off the original price! This one is only available in sizes medium and large unfortunately, but if it is your size, you are in luck for a steal.
Here is a little stretchy skirt that will make a statement. I like the Stretch-Knit Mini Skirt that was $15.90, but is on sale for $6.99. With the coupon code, your new price will be only $4.90, saving you 70%. This skirt is available in the colour teal in sizes small, medium or large. You can also pick the same skirt up in the colour magenta in sizes small or medium.
Here is another cute accessory, the Knit Rosette Head wrap in grey. This cute headband was $7.90 but is on sale for $2.99. Use the coupon code and your new price will be only $2.79. Forever 21 recommends pairing this head wrap with some edgy pieces for contrast, but I bet you could also pull off a romantic look also.
Check out all the great deals at Forever 21 now. There are sale items for women, men, kids and plenty of cute accessories and shoes that you can choose. Now is the time to shop, this deal is only good for today.
(Expiry: 18th May 2015)