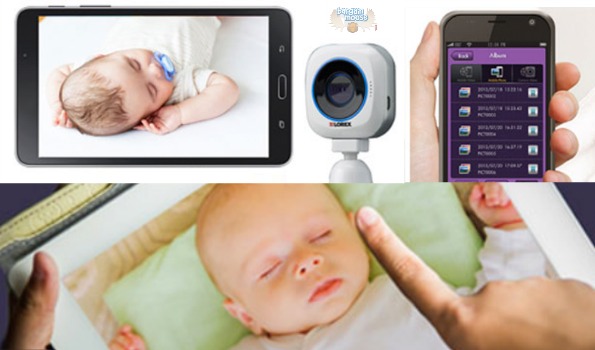 The Lorex HD Wi-Fi Video baby monitor is on super-deep discount today. This camera was $179.99 USD but now with a coupon code from our forums is only $21.24 USD. Free shipping is also included with the coupon code.
This is one super-deep discount today folks, so if you want one grab it quick. The first thing you should note is that Lorex Technology does ship within Canada, though the prices are in USD. When you click through the link, make sure the Canadian flag in the upper right corner is highlighted. Lorex defaults to the American site, so make sure you are in the right site when you order. Then use the coupon code EMAIL15 to receive an extra 15% off your order plus free shipping. Please note that the shipping estimator in your shopping cart does not reflect the free shipping - but you'll see that it IS free shipping as you proceed through checkout.
This little Wi-Fi camera is a portable camera that allows you to stream from your tablet or mobile in HD. The camera can run plugged into the wall, or it can also run from the battery pack for up to three hours. Built in is also a nightlight feature to give the room a comforting low glow. You can also receive alerts for the temperature of the room or movement. You will need to download a free app to use this camera. The camera supports both Android and iOS mobile devices.
The single camera is on sale today, but so is a double pack of cameras. The two pack of HD Wi-Fi Video baby monitor was $359.99, but now you can have it for only $38.24. Wow! That saves you 89% off the original price for a double pack too, and these cameras will all sync up together! Check out my cart where I have picked up both a single and a double pack of these monitors.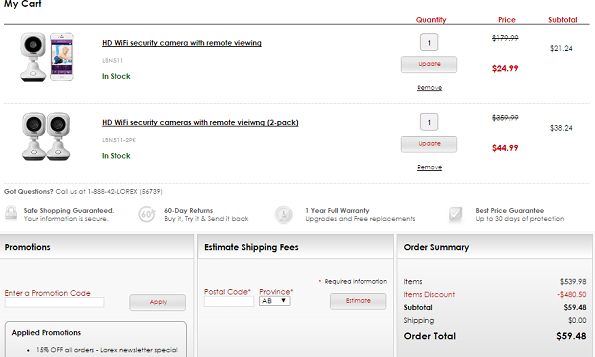 Over at BestBuy.ca, they are selling this monitor right now for $199.99. I also found another Lorex video monitor model over at Walmart.ca for $132.18. This monitor at Walmart has fewer features and operates from a monitor base instead of from a mobile device. Sears.ca also carries another Lorex baby monitor model for $169.99.
Reviews I have seen are tough on this camera overall. Most of the people who are frustrated seem most frustrated with the customer support on this product. Multiple people love this camera though and praise the set-up, with it being easy. I would not debate this purchase though, as I bet this price will not last long. Here is one happy reviewer.
The setup was straightforward - however, it took several tries for the camera to link up. The picture quality is definitely better than most. The only feature that would have been nice is the ability to control panning, remotely. App works on iPhone 5s, Nexus 5s, and Nexus 7 2013. Does not work with Nexus 7 (original).

You could also potentially use these cameras as a doggy spy cam or even rig it up as a security camera. I would probably keep it inside, as this camera is not designed to weather the elements. I might consider hooking this up to monitor my garage entrance. Grab your camera now before they are gone!
(Expiry: Unknown)