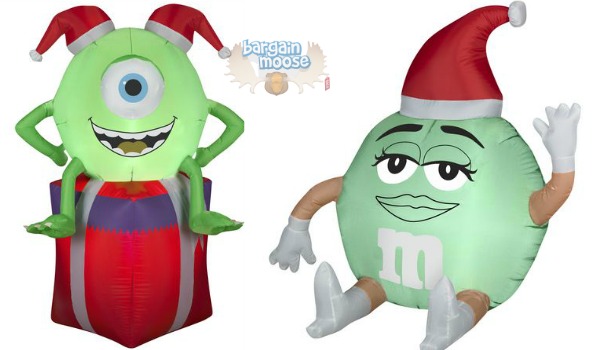 Now is your chance to stock up on super-sized decorations for the holiday! Over at Walmart.ca, I noticed a whole slew of giant airblown holiday decorations that have been put on deep discount. You can save up to 75% and score some major discounts, and have the coolest lawn in town.
Merry Christmas in July Bargaginmoosers! If you like to have holiday cheer in your yard, you need to check out some of these amazing inflatable decorations on clearance over at Walmart.ca. Take a look at the 3' Green M&M with Santa Hat. This lovely lady was $29 but now is only $7.25. That saves you 75% off the original cost and adds some adorable spunk to your yard. The green M&M would be the favourite around my house, as my daughter would love that it is the girl of the gang. While most of these airblown creatures are harder to find right now, Home Depot Canada has a similar 4' Penguin that is available for $19.95. Over at Amazon.ca, I found a 5' version of this M&M through a secondary seller for $214.31, which seems a little….inflated! Either way, you are paying a great price if you pick up that M&M now.
If you prefer an even wider display, check out this 3' Airblown Penguin Family. This adorable set was $40 but is now only $20. This little family would look adorable waddling along your lawn. They are ready to deliver plenty of holiday cheer.
I love this next one, check out theAirblown 3' Mike On A Gift. This funny decoration was $29 but is now only $14.50.  My kid loves Monsters Inc. and her eyes would light up to see Mike. This decoration will make your house stand out. I love that despite having only one eyeball, Mike is wearing two Santa hats.
Shipping at Walmart.ca is $4.97 if your order is below $50. Do not forget you can also send it to any Canadian Post location for pickup completely free. Those of you in Toronto also have the option of the Grab and Go lockers to ship free. Of course, if you are setting up a holiday scene in your yard, you should hit the $50 minimum.
I would buy quick Bargainmoosers. Many of these clearance inflatables are being picked off quickly. We saw some discrepancy as to what was stock was available for purchase online for those in Quebec and what was available to purchase online in Ontario. I would double check as to what is available through that link in your area. Before Christmas time, the prices will go up much higher for that same holiday cheer. Happy Christmas in July everyone!
(Expiry: Unknown)