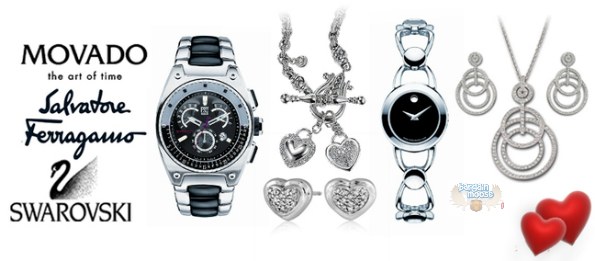 Homesav already has two Valentine's Day events up... and the focus so far is fashion accessories, jewellery and watches. They have great deals on brands like Swarovski, ESQ, Movado, Michael Kors and others.
A Movado watch is like a piece of art, and I have always loved their sleek clean designs. Homsav has a women's Movado Rava Watch on sale for $499.00 | original retail $1,160.00.
For the men this ESQ Centurion Watch by Movado is such a looker, I would love to see it on my man's wrist! ESQ is Movado's more affordable child so this watch is priced at $248.00, originally $524.00 retail.
This Swarovski Bracelet I can not suggest enough, it just looks totally awesome on your wrist. I own it in a red with black crystal accents and always get compliments when I wear it. It is a good deal for $294.00 | orig. $426.00 retail. I bought mine for a bit over that price.
They also have a large selection of really well priced cocktail rings,  most only $29!
Free shipping on orders of $70 or more.