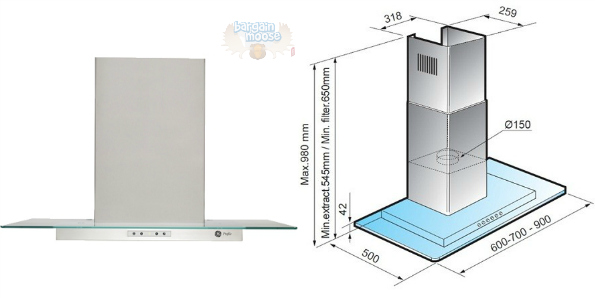 Home Depot Canada's hammer drop deal of the day is hot! The GE Stainless Steel 30 Inch Designer Range Hood (PVWG930SSV) is on sale from $1098 down to just $399 plus shipping.
This is a one-day deal only! While shipping is not included, the price is very reasonable for such an item. I estimated shipping to my home (on Vancouver Island). It was just $21.99, which is a fair price in my books.
Now, price comparisons are integral to any deal, and a range hood is no exception. I price compared this exact range hood at a few different online retailers. Canadian Appliance Source has the range on sale for $998.  Sears Canada sells the GE range hood for $999.91. Bad Boy Superstore sells the same range hood for $1,248.88. Lastly, I found this range at Micheal's Canada for $1,509.99.
I visited GE Appliance's website as well to get an idea as to what this range should sell for. The company gives their own range a $1,268 manufacturer's suggested retail price.
At Home Depot you are paying at least 60% less than the lowest price anywhere else right now. Seriously, this is a beautiful deal.
Of course, not everyone is going to need a new range hood. However, if you are planning to renovate your house, gut your kitchen, or just modernize your appliances, then this is a fantastic deal. I know many people who switch to stainless steel major appliances but never quite get around to replacing their old range hood. Now, it is affordable and stylish.
This GE Range Hood measures 30". The hood features blue light touch controls with two halogen lights and a four-speed fan control. The halogen lights will help you see what you are cooking (and what colour it is turning). I like the four-speed fan control because hood fans are notoriously loud. My current hood fan has two settings: noisy and jet engine. With four speeds, you can turn the fan on and still be able to cook without earplugs.
This range hood comes with a full one-year warranty that covers both parts and labour.
Shipping prices may vary depending upon where you live. This deal is available online only. The range is currently in stock and it qualifies for a free return should it not be what you need.
(Expiry: 8th May 2015)