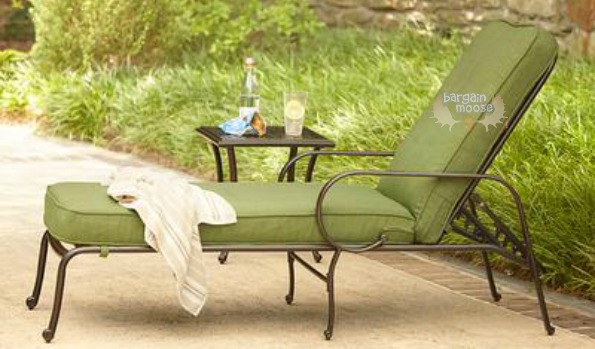 Get up to 40% off all Hampton Bay patio furniture right now at Home Depot. Remember that you get shipping on these large items for only $39.
I've spent the last two weeks pouring blood, sweat, tears and many a swear word into a new flagstone patio for my backyard. It is still not done, not even close actually, but I am dreaming about the patio furniture that will adorn my gorgeous patio, and the many parties and nights of reading I will do on said patio furniture. This sale at Home Depot is a good one for those looking for patio items. My husband said we should wait until end of season to purchase furniture, but I think this is a great time.
I'm totally in love with this Fall River Glider. I originally wanted a swing, but I only have room for a table & chairs set and a conversation set. This glider is exciting because it can be part of my conversation set and still gives me the movement factor. I also love the green colour, which fits right into my natural theme. Was $199, now $149.25.
These Millstone Cast Swivel Dining Chairs are great on their own or in addition to the set you already have. Was $299, now $179.40.
This Millstone 22 Inch Round Side Table is 25% off and 22" is enough room for drinks and snacks, maybe a book or two. Was $119, now $89.25.
(Expiry: Unknown)