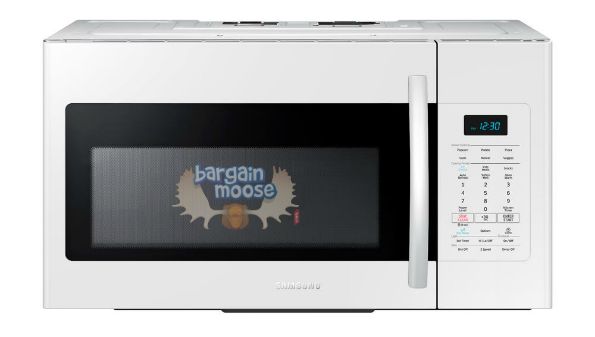 If you are in need of a new microwave for over your range, Home Depot has a hot deal available today only. This microwave is smoking hot (in a good way) with a regular price of $298 and now only $199. Looking around the web, I found that the regular price at some stores is even more than Home Depot's regular price. You'll save $100 and pay less than $200 for this little baby.
Samsung is really taking over the kitchen appliance market as I see them in more and more kitchens lately. Microwaves are no exception and you'll get this quality name brand microwave at a really great discount.
A few years ago my over the range microwave broke and I wanted nothing to do with fixing it, but my husband and kids all complained they couldn't get their coveted cheese bun sandwiches anymore. Cheese bun sandwiches are made basically with a bun and a cheese slice or slices of cheese. But, you can't cook it in the oven as it will get the bun crusty. You can't cook it on the stovetop because it will get a fried texture. It needs to be in the microwave where the bread will soften up and the cheese will melt and the kids and husband will be doing a happy dance. I can't fault them for this as I remember my cheese buns from youth very fondly (although mine were there in the oven kind). Ok, now that I'm hungry, I'll tell you about this microwave.
This is a larger size microwave that can cook entire family meals. It has a SensorCook detection software that sets the microwave for optimal cooking or reheating results.
Most reviews are good and it has a 3.4 star rating out of five total.
Really enjoying my new micro. Easier to use than my old one, especially the defrost feature and like the shortcut buttons for veggies etc. food cooks great.
The complaints I see are that the vent fan is too loud, so if that is a killer for this deal, then you are out of luck. Another potential killer could be that the microwave is white, but I do many people who don't mind their white appliances. Either way, you can't get stainless steel at this price.
Some price comparisons for you:
I could go on and on and show you the smaller appliance dealers who have it for around the $300 price mark, but you get the picture. Shipping is also going to be free on this purchase.
(Expiry: 17th July 2015)