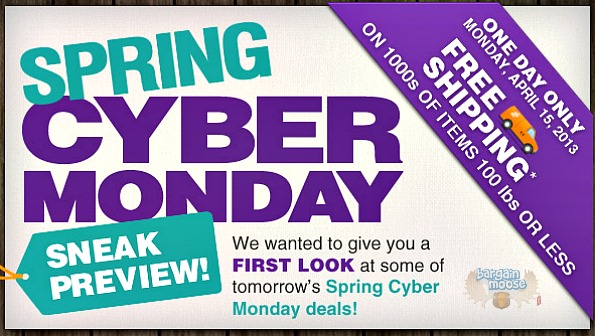 Today only, Home Depot Canada has a great event happening called Spring Cyber Monday.  You will be able to get free shipping all day today on thousands of items that are 100lbs or less, plus other great one day deals.
It looks as though they will be doing a Spring Cyber Monday every week, with different deals each week.  Because this is the first one, it may be the only time they offer the free shipping. Normally the cost of shipping would depend on what and how much you buy.
Here is a look at a few of the deals you will find:
Ridgid Trim Router with Free sheet sander (item #995373) was $129/now $99 (and free shipping)
Stainless Steel Patio Heater (item #928244) was $299/ now $199
4 Burner Propane BBQ (item# 821882) was $899/ now $579

Since this is a Cyber Monday event, you will not find these deals in stores. This is one of those times that it really pays to shop online because you will save a lot more money.
(Expiry: 15th April 2013)