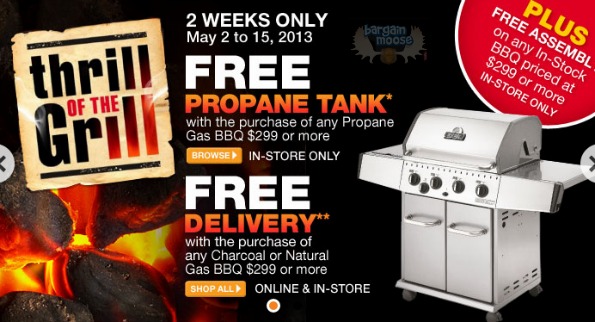 There are two great deals happening at Home Depot Canada right now. When you buy any propane gas BBQ in store, you will get a free propane tank.  If you are buying  a charcoal or natural gas BBQ online, you will get free shipping with your order.
For both deals, you will need to buy a BBQ that is $299.99 in price or more which is very reasonable.  From my experience, I have found that a BBQ is an item that you should spend a little more money on to get the better quality.  Spending $299.99 or more is really not a lot for a good quality BBQ.
In addition to the free propane tank for when you are buying your BBQ in stores, you will also get free assembly with any BBQ that is priced at $299.99 or more.  This is great because it will save you a ton of time setting it up yourself.
The online deal is also a great one.  Normally the cost of shipping would depend on what you were buying and how heavy it was.  Since a BBQ is a pretty heavy object, you will most likely be saving a bundle on the shipping costs.
Either way, if you are shopping online or in stores, it is worth checking out The Home Depot BBQ's because of these awesome deals.
(Expiry: 15th May 2013)