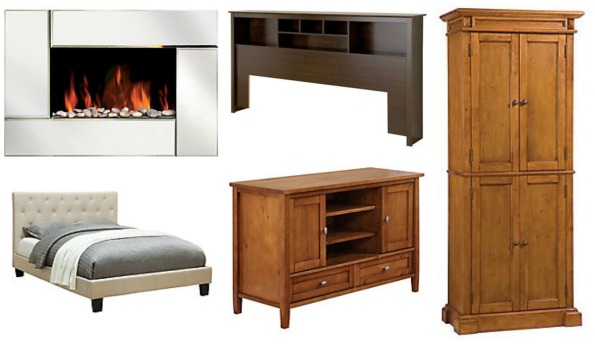 If you are shopping for tools, appliances, furniture, decor, etc. then you may be interested in the Home Depot Canada Boxing Week sale. You will find discounts of up to 75% off select items, and while I was not all that impressed with the Home Depot Black Friday sale, I have found quite a few nice offers in the Home Depot Black Friday sale. Plus, most of the items on the Boxing Week page at HomeDepot.ca come with totally free shipping.
There are a few different Boxing Week categories at HomeDepot.ca and they include appliances, furniture & decor, lighting, tools & garage storage, outdoor  & recreation, kitchen & bath. While you can save up to 75% off, most items are between 40% and 60% off, with just a few items exceeding that discount. Either way, there are some great items available at great prices during the Home Depot Boxing Day Sale. Let's start shopping!
This 24 Daniel Curved Wall Mount Electric Fireplace is a great way to stay toasty warm this winter. This little fireplace is on sale for 40% off, so instead of paying $206 you will pay just $124. Plus, this item ships to your home for free. The estimated ship time for me says 10-16 days, so maybe the Winter weather will show up by then.
Wow! What a great price on this Distressed Oak Pantry. You can save 65% on this fabulous pantry, which leaves you paying just $349.87 instead of $999. This item ships for free in 7-12 business days. I like these pantries. They definitely provide more storage space within the kitchen. I was wanting to put one in my dining room to store dry foods since I don't have much cupboard space.
Another item that looks great and provides a little extra storage is a bookcase headboard. Check out this Black Full/Queen Bookcase Headboard which is on sale for 67% off the regular price. This Boxing Day price of just $115 sounds much better than the regular price of $345. This item also ships for free, but in 5-9 business days.
While this is not a tremendous discount, I still really like the looks of this Himalayan Ionic Natural Salt Lamp. It is 22% off, which leaves you paying $38.95 including shipping. I used to always wonder what the purpose of these lamps were, but now I know. They are actually designed to purify the air around you as well as add some unique design to your home. The orange hues will provide a natural, calm atmosphere to any home.
HomeDepot.ca is offering free shipping on all items that are included in their Boxing Week Sale event, which is definitely a huge bonus.
(Expiry: 31st December 2015)