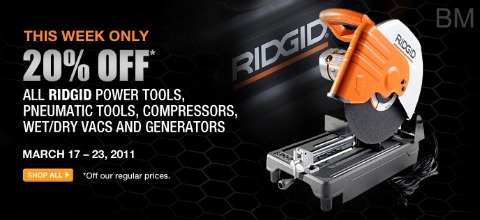 Home Depot is offering 20% off Ridgid power tools, pneumatic tools, compressors, wet/dry vacs and generators. These tools are starting at only $31.99.
Unfortunatly, we can't directly link so type "20ridgid" into the search area and you will find all the sale items. You still get free shipping on orders over $299 till March 23rd, good time to buy online.
Check out the 4.0 Gallon RIDGID PRO Vac for only $79.99, originally $99.99. Great price for a shop vacuum!