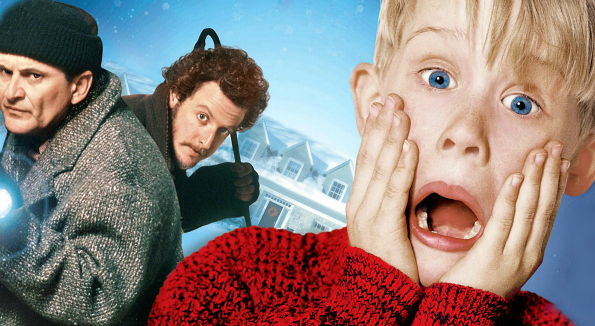 Home Alone is a Christmas cult classic that EVERYONE has to watch at some point in their lives. It is the ultimate Christmas gone badly when one young member of the family gets accidentally left at home while the rest of his family goes on vacation. Hi-jinks ensue. Originally $79.99, the Home Alone 25th Anniversary Ultimate Collector's Edition is now on sale for $25.99, which means you will also receive free shipping.
I could not find this seven-disk set elsewhere in Canada so I compared it to prices in the USA where it currently costs $39.99 USD @ Amazon.com and $42.49 USD @ Walmart.com. This is also the lowest price this set has ever been on Amazon Canada. The 25th Anniversary Ultimate Collector's Edition includes all five movies together for the first time:
Home Alone [Blu-ray, DVD and Digital HD]
Home Alone 2: Lost in New York [Blu-ray, DVD and Digital HD]
Home Alone 3 [DVD]
Home Alone: Taking Back the House [DVD]
Home Alone: The Holiday Heist [DVD]
On top of that, there are a couple of hours worth of bonus features on the disks. The entire set comes in a collectible paint pail with other collectibles you might recognize from the movie. There is a fake spider, battle plan, wanted poster, and a collectible ornament as well.
This set is awesome because you get all five movies and a whole bunch of cool props from the original movie. There are a few things I do not like though. First, you only receive the first two movies in Blu-Ray, the other three movies are just in DVD. That is a bit of a pain but I am sure most kids will not mind.
When reading reviews, I noticed that some people actually complained about the can. I thought this was odd as they didn't complain about the kitschy fake spider but they thought the can was kitschy. I think the can is perfect and if you have seen the first Home Alone movie, then you know why the can is the absolute perfect container for this set.
Overall, I am pretty stoked at this deal because the price is awesome, you receive free shipping, and these are the perfect movies to watch at Christmas!
(Expiry: Unknown)