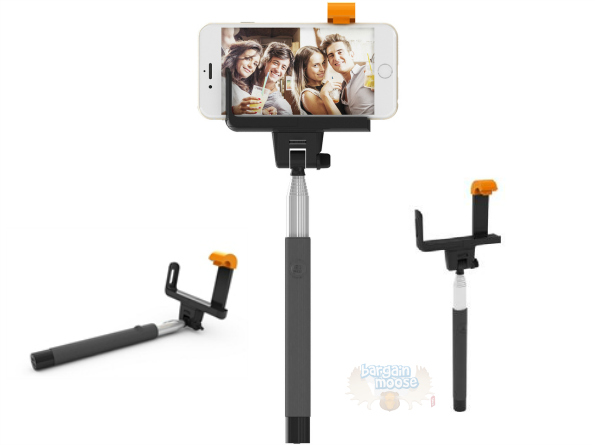 Today's deal is in tribute to the selfie culture we are currently cultivating in North America. At Dell Canada, the Hip Street Selfie Camera Extension is on sale from $39.99 down to $24.99 with free shipping!
This accessory is pretty self-explanatory. The 'camera extension' is actually a support system for your smartphone connected to a handle. As your phone is now an additional distance away, you can capture better selfies and selfies with more people (or body parts) in them. The device simply movies your phone away from you while still giving you that selfie 'picture taken from slightly above' look.
This device will work with most smart phone. You simply put your smart phone in the holder and use the handle to hold the phone farther away from you. This device comes equipped with Bluetooth: that means you do not need to set the timer on your phone before holding away. Instead, you can control the photo taking via the Bluetooth controls in the handle. The software is compatible with iOS and Android smartphones.
This little device is great for self-portraits or photos with a group of friends. The handle is fully adjustable for the perfect angle.
I price compared this device with a few other online retailers. Hipstreet Canada lists the manufacturer's retail price as $49.99. Grand & Toy (US) lists a price of $32.72 plus a $5 'minimum order fee' for not reaching a $50 order plus whatever shipping charges you would incur. Direct Dial Canada offers the same device for $31 but shipping is also extra. PC Canada did have this selfie extension rod on sale for $26.55 but shipping was extra and they are now sold out. Based on my research, Dell Canada's price is quite good and the free shipping is a lovely bonus.
I think anyone with a smart phone takes selfies these days. Take a picture of your new haircut, your favourite outfit, your makeup, and more. Selfies are a great way to keep family and friends updated on how you are and what you look like! They can also be a great way to express your artistic side through photo composition, filters, and more. Take better selfies now with the Hipstreet Bluetooth Selfie Camera Extension.
(Expiry: 10th July 2015)