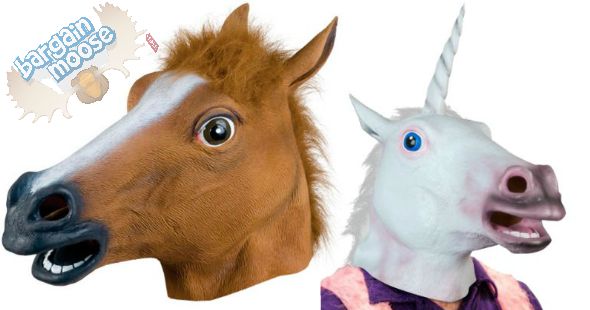 Accoutrements is known for their ever-so-popular horse head mask that had seemed to take over the internet and memes for a while. They also have so many other cool items, I had a good laugh scrolling through all of their different products. So if you're looking for a horse head mask or an inflatable Christmas tree to make people laugh, then this is your one stop shop.
Let's start with the Accoutrements items from Amazon.ca that have free shipping, so you don't have to worry about any extra costs. Right now Amazon Canada has these hilarious products on sale for up to 70% off their regular price, so you may just find yourself a steal on a great conversation starter.
Accoutrements creates some totally hilarious bandages. Normally if you cut a finger and put a regular Band-Aid on it, nobody is going to ask any questions. But slap a pair of these Underpants Bandages on that little paper-cut of yours and you are bound to start some conversations. These bandages were normally $13.78 but right now they are $9.99 plus free shipping. Keep an eye on the number of bandages in the tins available. Some have 15, some have 25 bandages inside. They have a few cool bandages with funny images on them:
If you are obsessed with bacon like I am, then you may also enjoy the Accoutrements Mr. Bacon Bendable Action Figure. This figure was originally $17.99 but right now you can snag it for just $10 plus shipping. I would velcro this little guy to the dash board in my truck or even place him on my Christmas tree. Not that we should really be thinking about Christmas during the summer.
Their most popular item, the Accoutrements Horse Head Mask is also on sale right now for 33% off. It was regularly $33.59 but right now you can grab it for $22.44 and get free shipping if you spend $25 or more. This mask is just hilarious. My older brother wore it to a New Years party and he was tagged in everyone's Facebook photos. Hilarious! I would definitely love to have this Horse Head Mask. Accoutrements has a few different masks for sale on Amazon.ca, so pick your poison:
I also adore these Accoutrements Hot Dog Ear Buds. You can't really complain when you are saving 41%, can you? These ear buds will make people laugh and only cost $8.79. Time to ketchup on your favourite music! Ha! This Accoutrements Dashboard Zombie is pretty awesome too, but maybe because I have become obsessed with The Walking Dead. This Dashboard Zombie is great for any vehicle and will cost you just $6.50 after saving 64%. Spend $25 to have this item shipped for free.
Some items have free shipping, and some have an additional shipping fee. So be sure to keep that in mind while  you're shopping through these items on Amazon.ca.
(Expiry: Unknown)