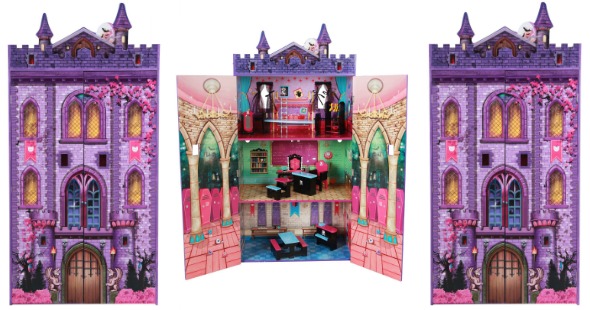 I bet every little girl would love to wake up Christmas morning with this adorable High School Doll House wrapped up under the tree. Great news, Moosers! Now you can snag the High School Doll House on clearance sale at Walmart.ca. This doll house was originally $88.88, but while supplies last you can snag it for just $26. Spend $50 to get free shipping or take advantage of the other free options.
The High School Doll House is every little girl's dream come true. Your daughter will explore her creativity with this doll house for sure. The original price would have me a little hesitant, but the clearance price of just $26 has me tempted to throw it in my Walmart.ca shopping cart and I don't even have a little girl! While there is no expiry date listed, these Walmart.ca clearance offers have been selling out in the blink of an eye. If you want this item, buy it now while you still can.
This High School Doll House has four separate rooms. There is a teaching room, a dining room, a bedroom, and a student party hall. There is also an additional two panels with a swimming pool and a basketball court. This little house even comes complete with 8 pieces of doll furniture. Some assembly is required, and this High School Doll House is best suited for little girls ages 3 through 5. Seriously, I think any little girl around that age is going to have hours of fun with this house. Make sure your little girl already has some dolls of course. If not, you may need to grab a few that are on clearance sale at Walmart.ca.
When it comes to shipping, Walmart.ca has a few different shipping options available. Spend $50 to get free shipping right to your home, as that is probably your best bet. With all the new clearance deals that have been added, you really won't have a hard time finding $50 worth of toys to wrap up and put under the tree. If you can't spend $50 right now, there are two free shipping options. You can have the dollhouse sent to your closest Canada Post Office for totally free, or you can have it sent to a Grab & Go Locker at a local participating Walmart store for free as well.
(Expiry: Unknown)