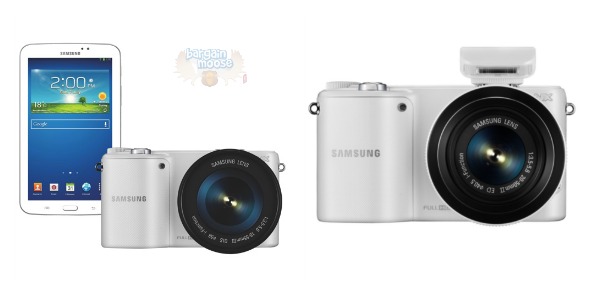 Henry's Canada has bundled together the Samsung NX2000 with the Galaxy Tab 3, 7 inch (white). Originally $900.04, the bundle is now on sale for $479.99 and worth every penny.
To clarify, the Samsung NX2000 Smart Camera in this bundle comes with the 20-50mm lens.
So I did some price comparing. Walmart.ca has the exact same bundle on sale for $548. This bundle is also at Future Shop Canada for $599.99, but it is sold out. I didn't find the bundle at Amazon.ca, but I did find the Samsung NX2000 in white which costs $381.22 just by itself.
This camera is the bomb. It packs amazing quality in such a small package. It features the ability to interchange lenses and comes with a 20-50mm F/3.5-5.6 ED lens. It is pretty much like a DSLR that is built for transportation.
The camera features many great features including a 20.3MP sensor, 3.7" touch screen, built in wi-fi and an external flash. You can also record movies with your camera so it is all you need to capture life in high quality. Together with the Samsung Galaxy 3 - a fantastic little tablet great for your everyday needs, this bundle is perfect.
You will receive free shipping on orders of $99 or more at Henry's.
(Expiry: unknown)