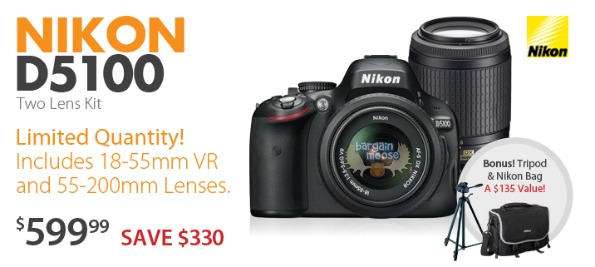 If you are in the market for an all-in-one starter kit on a DSLR, Henry's has a fantastic deal right now. Get the Nikon D5100 with two lenses for only $599.99, with a regular price of $929.93.
To put this deal in perspective, I found the camera with an average selling price of $500 - $520. The second DX VR 55-200 f/4-5.6G IF-ED lens sells for a minimum of $200 and up. This means if you bought these two items separately, even on sale, you'd spend a minimum of $700. So while it isn't quite as high as the listed regular price of $929, you are still saving $100.
I have quite an aged Nikon camera, so I need a new one and have been waiting for a deal. I love having the 55-200 lens and love that it's included in this deal. My 55-200 lens broke a while back; it wasn't worth the repair cost and I feel lost without it. I used that lens quite a bit, with my children in sports, plays, etc. The regular lens just doesn't cut it for close-up photos when you can't get up close. When I enquired about buying a new lens, the sale associate actually suggested just spending a few hundred more dollars on a new camera as there are so many new features like vibration reduction. Also, mine can't do HD movies like this one, which gets rid of the need for a video camera.
I've noticed an added bonus when you purchase this kit, which is a freetripod (worth $79.99) and free gadget bag (worth $54.99)! You need to add both to your cart along with the camera. That truly makes this quite the great deal.
Shipping is free when you spend $99 at Henry's, so this camera kit will get to you for free.
(Expiry: Unknown)