Harveys Canada Deal: Buy 1 Get 1 Free on Burgers! (Printable Coupon)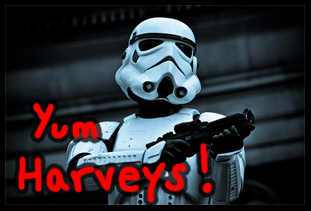 Harvey's Canada have released this printable e-coupon for some yummy goodness!! If you buy any Harveys burger or sandwich with Canadian back bacon, you can claim a free original burger as well! Bang goes the diet, eh?
Talking about fast food, I came across this article in the Forks.ca blog which gave an interesting result from a poll: over 25% of Canadians polled said they had eaten something from a fast-food restaurant in the last 24 hours! That's quite a mad statistic!!
Well, if you are going to eat fastfood, you may as well go wholly Canadian… suite101 says "Forget McDonald's, Wendy's, and Burger King... For Canadian Fast Food go to Harvey's!"
Thanks to firdaus omar for the image.
- Anna