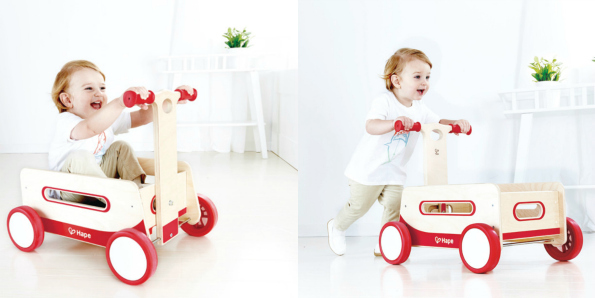 Well.ca has a really nice clearance sale on as I mentioned before. Brooke and I have been checking out the sale for good deals and I just found one on this gorgeous Hape wagon. The Hape Push and Pull-Classic Wooden Wagon Ride On is on sale from $129.95 down to $88. You will also receive free shipping on this wagon as it is over $29.
The same pull wagon currently costs $129.99 @ Amazon Canada and $130 @ Lusso Baby Canada. Essentially, you will pay full price anywhere else for this wagon at this time. I like this wagon because it is multi-purpose. Your child can both push and pull their little wagon along. They can ride in their wagon as it is safe for passengers and they can use it to haul around toys. Holding onto, pushing, and pulling a wagon can increase stability for new walkers as they have something to grasp at all times to improve their own balance. As confidence grows, so too does the versatility of this wagon.
The wagon is designed for ages 12 months and up according to Hape, though Well.ca says the wagon is for three and up. It is a wonderful toy for your young child that will grow with them for many years. As the Hape wagon is made of wood, it will outlast your child's childhood. Thus, it makes an excellent toy to hand down to younger siblings and other kids in the family once yours are grown.
In my family, there was a red tin wagon that was positively used for everything until it died of a broken tire. You could haul rocks, flowers, and egg shells from birds nest. You could haul pillows and blankets for a fort. You could haul books to read outside.
This is not the only Hape toy on sale, but it is certainly my favourite as Well.ca is charging over $40 less than anywhere else. I also like this Hape Toys Rock and Ride Rocking Horseon sale from $89.99 down to $68. I was a big fan of rocking horses when I was little and the only reason that doesn't continue is because they don't come in adult sizes. This would also qualify for free shipping as it is over $29.
(Expiry: Unknown)