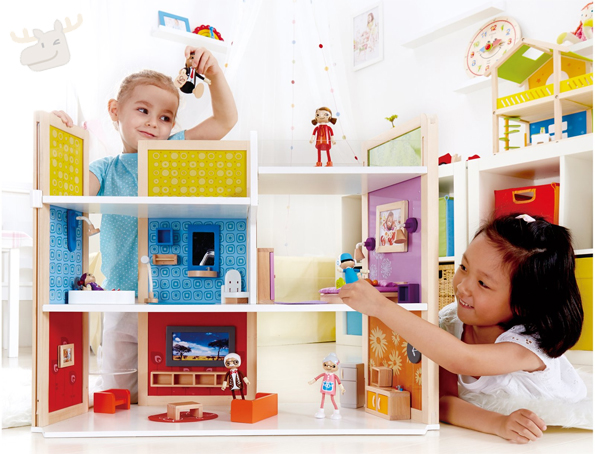 Hape Toys are known for their top-notch quality and excellent durability, so when I spot a great deal on a Hape item, I love to share it here on Bargainmoose! Now, this deal is a wee bit more expensive than the toys we usually post, but some of you might be on the lookout for that "big" Santa toy and this could be considered. It's a deal on the Hape Happy Family DIY Dream House on Amazon Canada. This beautiful house was originally priced at $223.99 and you can get it now for only $159, along with free shipping!
This Hape dollhouse comes with magnetic wall furnishings, and includes all the furniture and décor that you can see in the illustrated pictures (not the dolls in the image above, those are just for illustration). The exterior walls of the dollhouse are a chalkboard, on which your little one can draw anything they wish! And a note on the toy quality:
Durable, child safe paint finish and solid, wood construction are hallmarks of Hape toys. All Hape products sold in North America meet or exceed all applicable safety standards.
That's why they seem to cost a little extra than your bog standard plastic toys… but they're so worth it. I love wooden toys like this!
This exact Hape play house isn't for sale at many other places online in Canada, but I did spot it at a few stores at higher prices. It's $200 at Mylittlegreenshop, $210 at Allstarlearning, and $220 at Chapters. You can see that the Amazon price is really great today.
Last year, I got my two girls a large doll house from Toys R Us as their Santa present. I spent about this amount on that gift, but that was pretty much all I spent on them for Christmas 2014. I prefer to get one large memorable gift from Santa… something durable that will last for many seasons of play. Just this morning, I heard my two year old in the playroom, putting Anna and Elsa on the toilet…
(Expires: unknown)