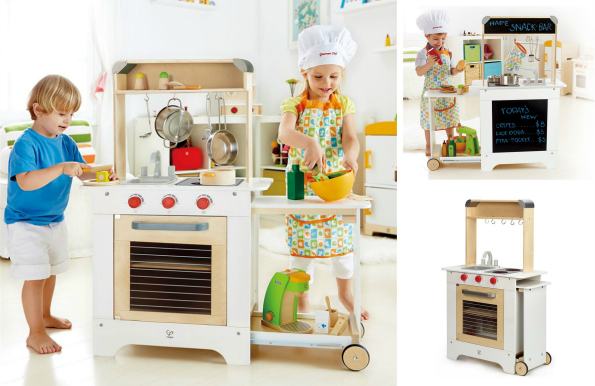 When I was a young child, I had a plastic kitchen set where I could pretend to cook, clean, and more. I don't know what happened to it, but it was plastic so I assume I somehow destroyed it. This Hape Cook N' Serve Kitchen with Apron is made out of solid wood and should last your child and their siblings until they outgrow it. Originally $169.95, the kitchen is now on sale for $75. This kitchen is large and will not qualify for free shipping; shipping will be an extra fee.
Even with shipping, this is the cheapest price you will find. At Amazon Canada, the same set is currently on sale for $139.99. Raspberry Kids has it on sale for $135.99 and Lussobaby is charging the full $169.99. You will not find this amazing little kitchen set for cheaper anywhere else. Let us talk kitchens. First of all, your little chef will receive an apron to wear while they get cooking. The set includes a sink, two-burner stove, pull out trolley for more counter and shelf space, and an oven. There is an overhead shelf and a place to hang pots and pans. On the 'back' of the unit are two blackboards so your child can advertise what is on their menu today and draw pretty pictures of the food.
This wooden kitchen is perfect for small spaces as the trolley part collapses into the unit for storage. The knobs turn 'on' and 'off' the burners with nice clicks so your child knows they are on or off. Now, all the accessories in the picture do not come with the kitchen - as per usual - so they must be purchased separately. However, getting a full wooden kitchen for this price is pretty extraordinary.
Shipping depends upon where you live. It will automatically select priority shipping - so make sure to change it to standard shipping for the cheapest shipping option. I live way on Vancouver Island so this set would cost $21.21 in shipping to me. It should be much cheaper in Ontario and in major cities across Canada. Even so, you are still getting the set for around $40 cheaper than anywhere else.
(Expiry: Unknown)