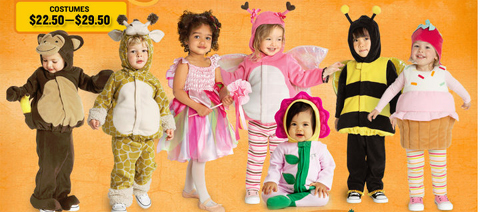 Over on the Canadian Old Navy Facebook page, they've announced that their Halloween costumes are now available to buy in-store. I know it's very very early to be planning for your kids Halloween costumes, but how can you resist!!
UPDATE: You can now buy online too:
The costumes look really cute! There are a few pics of them on the Facebook page, and I can see mini sharks, bees, batman, pumpkins, fairies, cupcakes and more!  The cheeseburger looks brilliant!
Prices are mentioned in US dollars, so it will probably be different in your local Canadian store.
My little girl is 3 months old now, so she will be a grand total of 5 months old when Halloween comes. I cannot wait to dress her up! I don't know if I will just grab a good deal on a store bought baby halloween  costume, or come up with something home-made, for a bit of fun. I've seen an awful lot of pictures round the internet where parents have laboriously outfitted their baby in brilliant costumes, such as this alien chestburster!