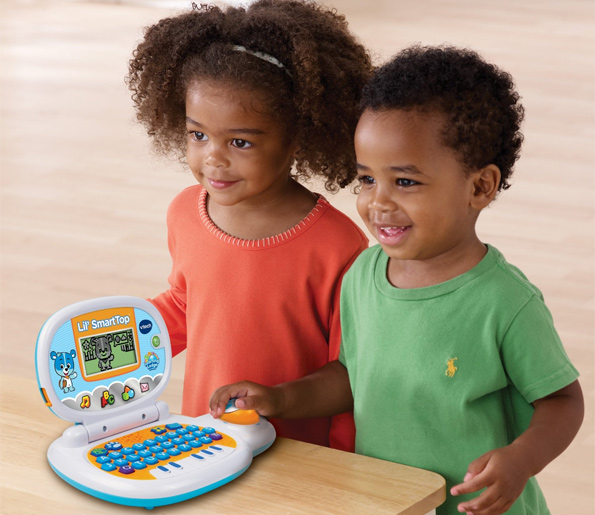 Anyone on the hunt for toys for Christmas? I am!! If you're buying for a toddler aged between one and four, this could be an ideal gift. The Vtech Lil' SmartTops in either blue or pink are half price just now – reduced from $29.95 to only $14.95 from Chapters Indigo!
As I write this post, both items are in stock online but there's very little stock left of the blue model. If you're interested, buy now. As for pricing elsewhere, most stores have this Vtech Lil' SmartTop for $30, including at Sears and Mastermindtoys. The half price offer from Chapters is perfect!
The Chapters listing says that this is age appropriate for aged 10 and upwards, but I believe that is an error on their site. Sources elsewhere show that this toy is for toddlers, not teens!
Here's a quick blurb about this item:
An exciting, small and portable role play laptop with a cute bear character introducing fun learning to children! With an a-z keyboard children can press a letter to learn the letter sound and name and hear an object name relating to the letter they have pressed!
This sounds ideal to help little minds develop.
There are a number of reviews which you can read here on TRU, if you want to know a bit more. A few people weren't happy with the brightness of the screen… but that's going to be pretty obvious before you buy. It's not a backlit screen, it's just a basic screen with pixels on it, as you can see in the image. On the plus side, there were positive reviews such as:
Great product for a toddler. Keeps them busy and it's a learning toy.
What about shipping, I hear you ask? Well, most of you are familiar with Chapters policy for online shopping. If you place an order of $25 or more, you will get free shipping and this little Vtech toy applies to that policy. I'd really recommend placing an order with a few things in order to spend $25 or more – I am sure that you'd prefer free shipping to your home!
(Expires: unknown)