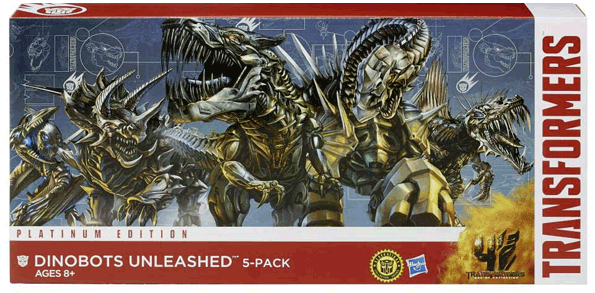 In the ongoing Black Friday weekend sales from Toys R Us Canada, I've spotted a deal on a popular toy range – Transformers! You can get this 5 piece set of Transformers Dinobots (platinum edition) for half price just now – it is only $99.99 and that also includes free shipping to your home!
When I popped this in my cart, shipping was coming up at $11 but it ended up being free – that's a very good saving.
For this price, you're getting a set of five Transformers Dinobot figures, and the age range on these is eight years and upwards. And if you're in any way familiar with the characters themselves, here's what you get:
Includes Grimlock, Strafe, Dinobot Slug, Snarl, and Slog figures
Now, this item appears to be a Toys R Us exclusive, therefore I am having difficulty price comparing with other retailers online in Canada – because they simply don't sell this exact item. However, when you see the same set being sold by an Amazon marketplace seller for $218+ here, then I think the half price offer from Toys R Us is a fab deal.
:) Truly, I don't know very much about the Transformers characters nowadays… I am pretty out of date when it comes to Transformers knowledge. I'm just about familiar with Optimus Prime and Bumblebee… never mind the dinobots! What about you? Do you have a kid who loves Transformers and would love to see this on Christmasmorning?
(Expires: unknown)