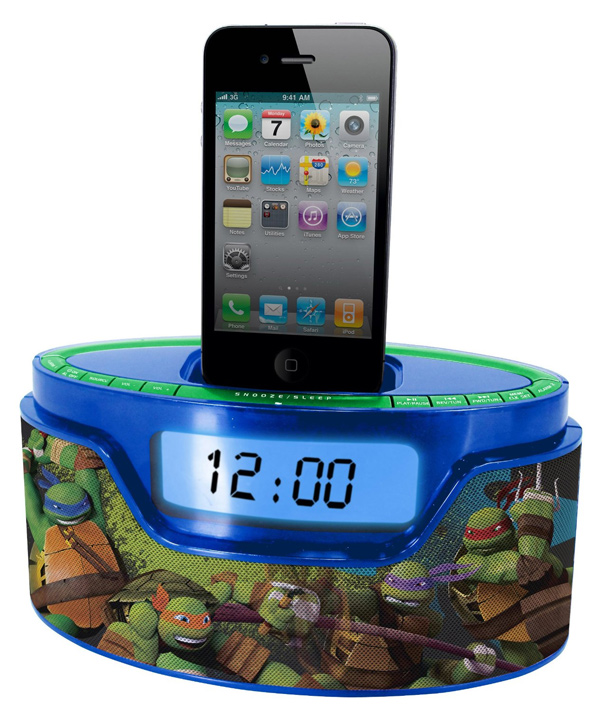 This is a little item which I mentioned before in this post, but it's back in stock and deserves a post of its own! You can get the Teenage Mutant Ninja Turtles Digital Clock Radio for half price right now, at Walmart Canada. This item was $69.99 but it's now only $34 to buy online!
The Teenage Mutant Ninja Turtles Digital Clock Radio is actually a docking station which can charge an iPhone or iPad. To be honest, I am ever so slightly tempted to get one for myself! I don't have an iPad dock, I just plug my iPad in to the wall at night. I'd love a Teenage Mutant Ninja Turtles dock! I am a big kid though…
I definitely do NOT like that Walmart state a gender on this item – BOYS. This is sooo not the case. I believe this alarm clock can be used by either gender, no?
As for the prices elsewhere online in Canada, I cannot see this digital clock radio for sale at any other store, so it's difficult to price compare. There is this fabulous one for $30 on Amazon, but it's just a clock and not an actual docking station and other device.
Shipping / Collection Information
If you buy online at Walmart Canada, I am sure you know all the shipping options by now, but I will re-iterate them here in case there are any new eyeballs reading this blog post.
Order online on its own, pay extra for shipping
Order with something else, get free shipping on $50+
Order online & collect locally for free
Choose whichever option works out the best for you!
(Expires: unknown – though it does say "Limited stock" and only a few left online, so it you want it, buy NOW)